After charging up our camera batteries in readiness for our day in Versailles, we headed off early in the morning to catch the train to Versailles.  It was the most brilliant day, with the weather fine and around 13 deg, with a clear blue sky and sunshine !  With all the walking we had done over the past few days, I had very painful blisters on both feet.  Liz did a quick reconnaissance to find a chemist close by so I could tape up my toes to lessen the pain.  Thank goodness for good old Mecurichrome !  Not the prettiest sight, but certainly effective.  I managed to hobble my way around for the final 24 hours of our trip.  We arrived in Versailles and surprisingly, met up with a couple of Aussies who were visiting France and we had a nice chat while we all made our way to the Palace of Versailles.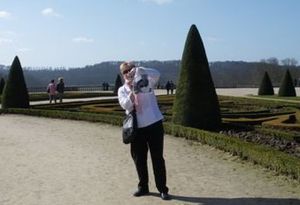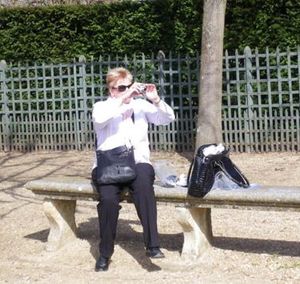 Above: Me & my trusty Pentax !!  Taking the opportunity to rest my blistered toes for a minute or two
and adding to my photo collection....I ended up taking over 900 photos on our trip !!!

What an absolutely stunning place !  We saw the Grand and Petit Trianons.  We spent the entire day seeing all there was to see.  I was in awe of the sumptuous surrounds and the magnificent interior, with the beautiful chandeliers and parquetry flooring, to the gorgeous marble and works of art.  After a few hours and a stop to renew my bandaids on my poor toes, we spent a wonderful day in bright sunshine, seeing as much as possible.  It was unfortunate that the fountains were not in operation, obviously due to some maintenance work, but what we did see more than made up for that. 

After a very busy day, we headed back to our apartment to pack and get ready to say goodbye to Paris and head back home.  We spent most of the next day on a sightseeing bus seeing some of the sights we had missed out on earlier and we then headed to the airport to catch our flight later that evening.  We had a 2 hour stop over in Dubai and a very short 45 minute stop in Singapore before heading to Melbourne.  Not much sleep on the plane and we arrived in Melbourne at 8.30 am.  Liz's hubby John, picked us up and we headed to Liz's house in Langwarrin where Chris would pick me up a short time later.  After about an hour of chatting, we headed home.  I was welcomed home by three very happy Weis who greeted me as if I had been gone for years !  I had a wonderful time overseas, but oh how lovely it was to be back home again with Chris and my three, 4-legged 'babies' again.  The old saying, "there's no place like home" is certainly very true !!