Latest News/Results
April 2021: Oscar is a dad for the first time !
14 beautiful puppies born to 'Camo' - Pointerwei Deloraine, sadly,
2 puppies didn't make it, but the remaining 12 (8 females & 4 males)
are all doing very well indeed.  Photos here soon...
---
7/8/20: Not much news ! Things have been very quiet lately and
like everyone else here in Victoria, we are housebound and on 
restrictions due to the dreadful Covid-19 Virus which is sweeping the world.
We travelled to the UK in late February/early March 2020 to visit Chris's mum and cousin Stephen and family.
We were only away for two weeks instead of our usual three this time and luckily for us, we made it back
home just in time for us not to have had to self isolate in a city hotel. 
We did our two weeks isolation in our own home - with our beloved Weimaraners.
Our grey, 4 legged kids were once again cared for by our dear friends Helen & Peter and we 
cannot thank them enough for all their wonderful care while we were away.
We will have some photos from our trip here very soon :-) 
In the meantime, we pass on our thoughts to those who have lost their
loved ones due to the Coronavirus.  Please stay safe and adhere to the rules everyone !
---
19/7/18:  Our breeding programme has come to an end.
Our planned litter for Lily will not go ahead.  We are
very saddened to announce this.  39 years involvement
in the breed is a long time and we take this opportunity
to thank all those who have loved and owned Silvasheen bred
puppies over the years.  We will always be very proud of your achievements.
---
29/10/17:  I am usually the unluckiest person around & I never win anything !!
I entered an online competition run by Telstra, called the 'Girl On The Train' competition
where in 25 words or less, you had to answer a question (I can't even remember what the
question was now !), so for a bit of fun, I entered the competition.  Imagine my disbelief when
a few weeks later, I received an email to say I was the lucky winner !! 
I won a 5 night's, all expenses paid, trip for two to Kewarra Beach Resort in Cairns.
Chris and I headed off and we had the most wonderful time !  It was only
 a few weeks since we had returned from our trip to the UK & Austria, so we had a
lovely short 'holiday' to recover from our holiday !! Again, a big thankyou to
Helen and Peter for looking after our dogs whilst we were away.
I took a million photos during our 5 days away and I will post some here on
the site soon.  Just too nice not to show you all, but here's one of us on the
idyllic Kewarra Beach after a moonlit dinner....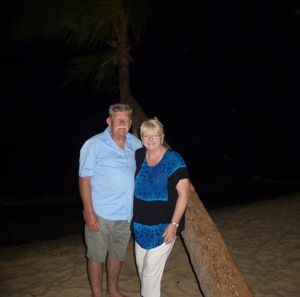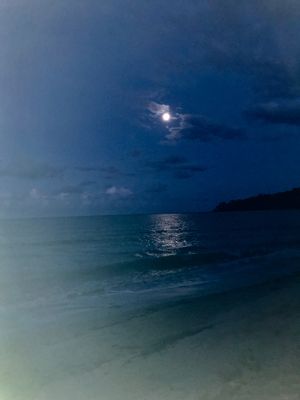 ---
22/9/17:  Back home after our 19 day trip to the UK and Austria.
I finally realised my childhood dream to visit Austria, although we needed
much longer to see it all, we did manage to visit many beautiful places in
Vienna and Salzburg.  Definitely will be visiting again !
We spent the majority of our time visiting relatives in Gloucestershire. We also
managed to spend a day in Cornwall, catching up with our friends Lynne Danneau
and her hubby Wayne.  Of course, a highlight was having cuddles with Oscar & Lily's
very handsome sire, Riley and beautiful grandsire Logan.  Lynne and Wayne spoilt us
rotten during our visit and we were thrilled to attend the City of Birmingham's
championship dog show and watch Riley win the veteran class and also reserve
dog CC.  At 8 years old, a fine effort in excellent company !
---

24/5/17: Heartbreaking news...so soon after showing Ziggy
(Aust Ch Silvasheen Grey Eagle ET) in the Veterans' Parade
at the recent Nationals...
Sadly, Ziggy passed away today.  He had been struggling with
extremely bad arthritis in his hindquarters and after a serious fall
on his daily walk in the park this morning, Barry made the always
heart wrenching decision, to stop Ziggy's suffering.
Rest In Peace dear fellow.  We will always remember you with
a big smile on our faces.  Thank you to Barry for all his love and
care of Ziggy over the past 15 years.  Our thoughts are with you xx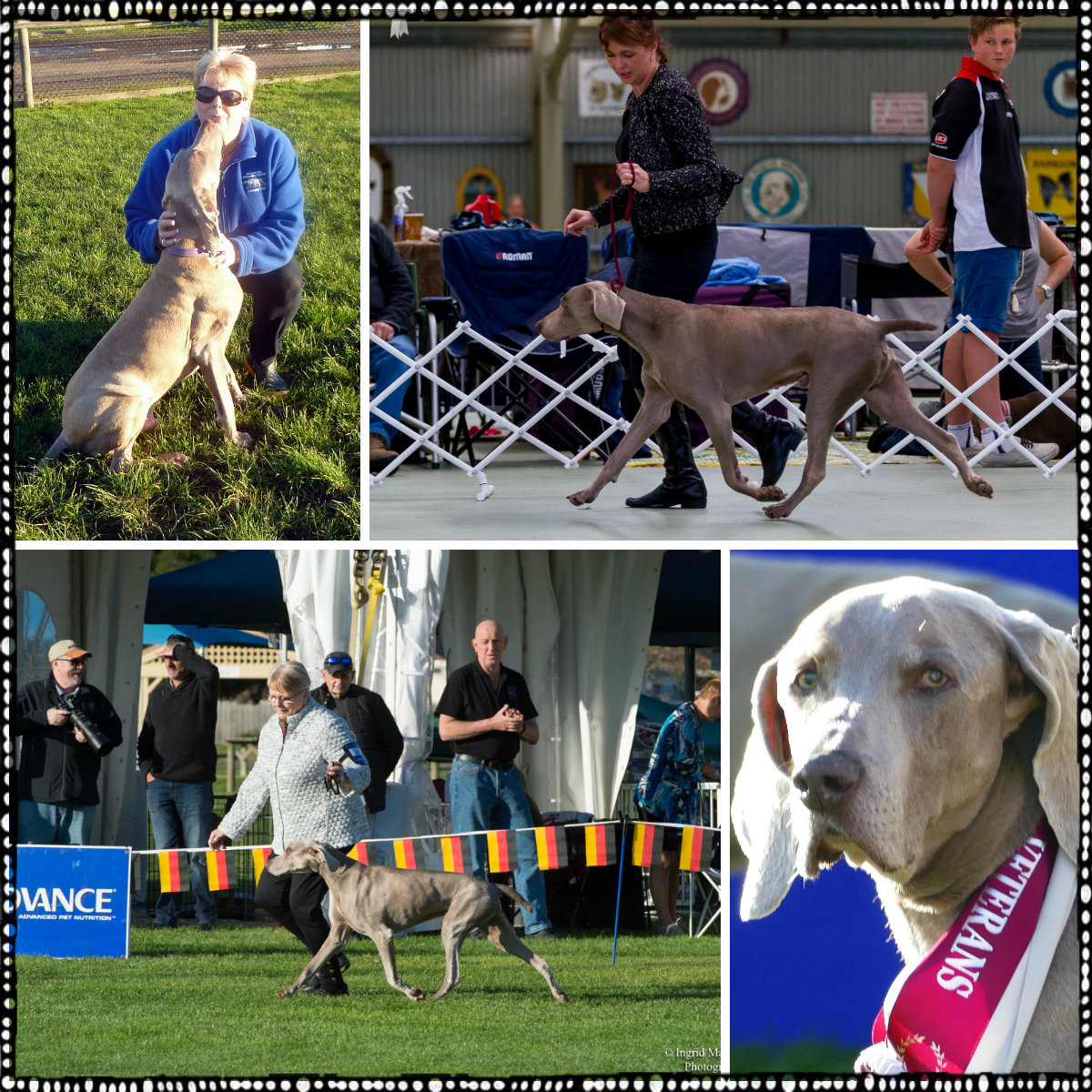 ---
23/5/17: We were over the moon to see Chardy's litter brother Odin -
Aust Ch Silvasheen Hit The Road Jack (owned by Sue Culbert) being Graded Excellent
at the Nationals under breed specialist judge, Mrs. Gerda Halff-Van Boven
from the Netherlands.
Odin showed his heart out, coming 4th in a very large class. 
He was handled brilliantly by Kate Raven.
Thank you Kate, he looked wonderful ! This is Odin's second National.
He won the Minor Puppy Dog Class at the National back in 2014 in Sydney and
we are very proud of his achievements.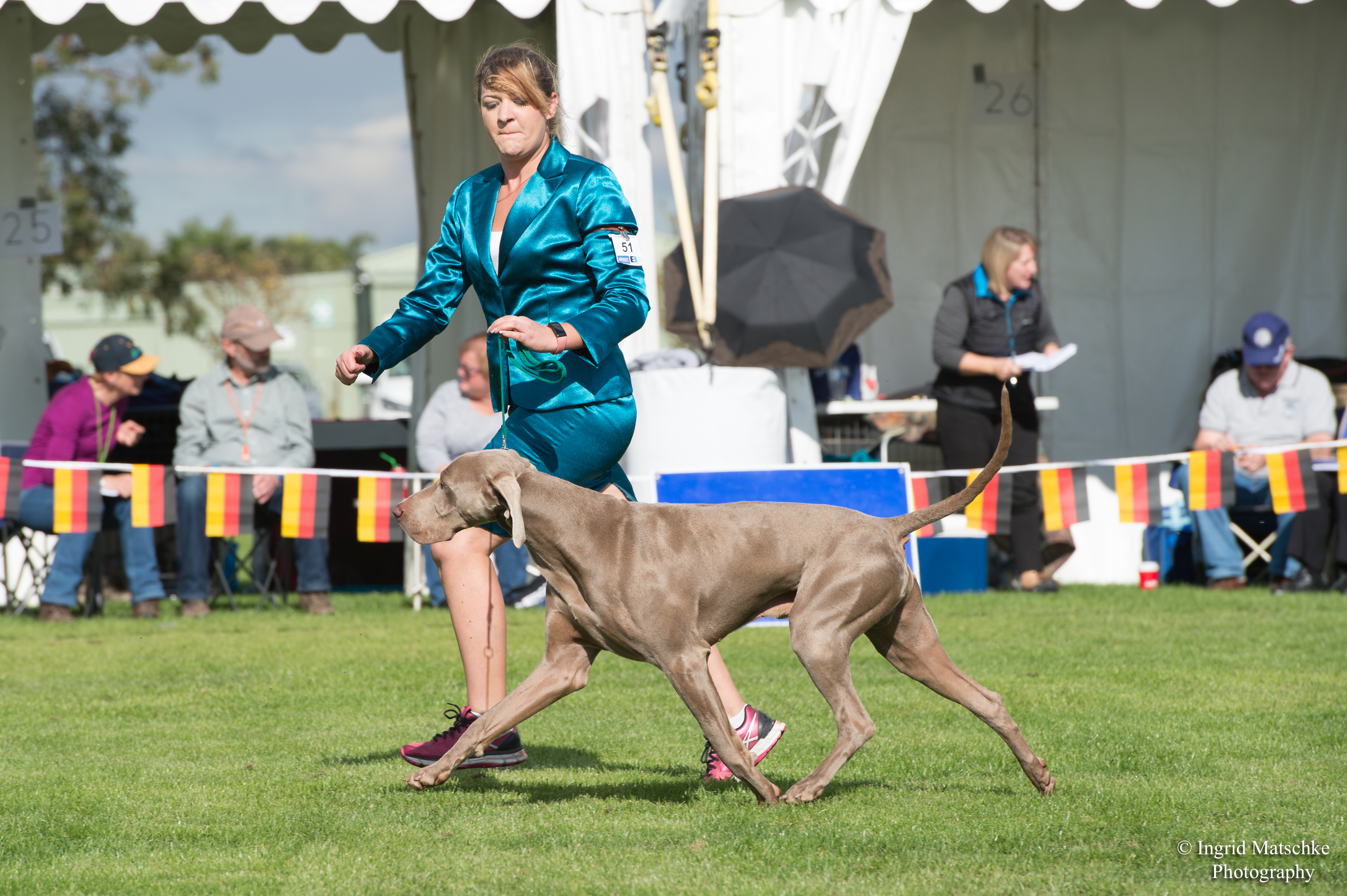 ---
23/5/17: I was thrilled to show ''Ziggy'' - Aust Ch Silvasheen Grey Eagle ET
in the Veterans' Parade at the recent Weimaraner National held in Melbourne.
Ziggy is Skye's litter brother and has reached the grand age of 15 years old.
He was the second oldest dog in the Parade of 32 wonderful veterans and as
his breeder, I was very proud to trot him around.  The dear old fellow actually broke
into a gallop and still shows remarkable movement, reach and drive for such an
elderly gentleman.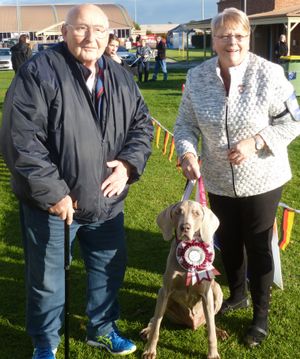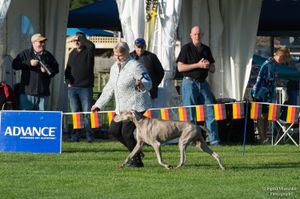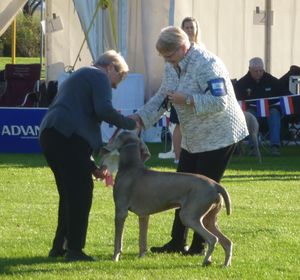 Top to Bottom (photos above):  Ziggy with Di and his owner Barry...
Ziggy trotting around the ring with Di...
Ziggy being presented with his rosette by our dear friend, Mary Clarke.
Mary owned Ziggy's sire - Bronson - Aust Ch Silvasheen Capuccino Kid (bred by us)
and graded Excellent 'V1' at the 2001 Nationals in Adelaide. Ziggy was also graded
Excellent at the Nationals in Melbourne in 2005.
---
23/4/17: So very pleased to announce that Spook - Aust Ch Silvasheen Oska Dlarenta
gained his much overdue show title at Albury this weekend.  Spook was handled in his
class by Kirstin Erlewein who did a fantastic job.  I handled Spook each day in the Group
judging and I was thrilled to not only finish his title, but also go Best In Group with him
on Sunday.  Spook then went on to win Australian Bred In Show - once again, beautifully
handled by Kirstin.  This boy thoroughly deserves his title, after extremely limited
showing, due to 12 months in the US and living interstate for a number of years.  It may have taken
a bit longer than anticipated, but we got there !!
Spook pictured below with Judge - Mr. W. Gunter (NSW), Kirstin and myself.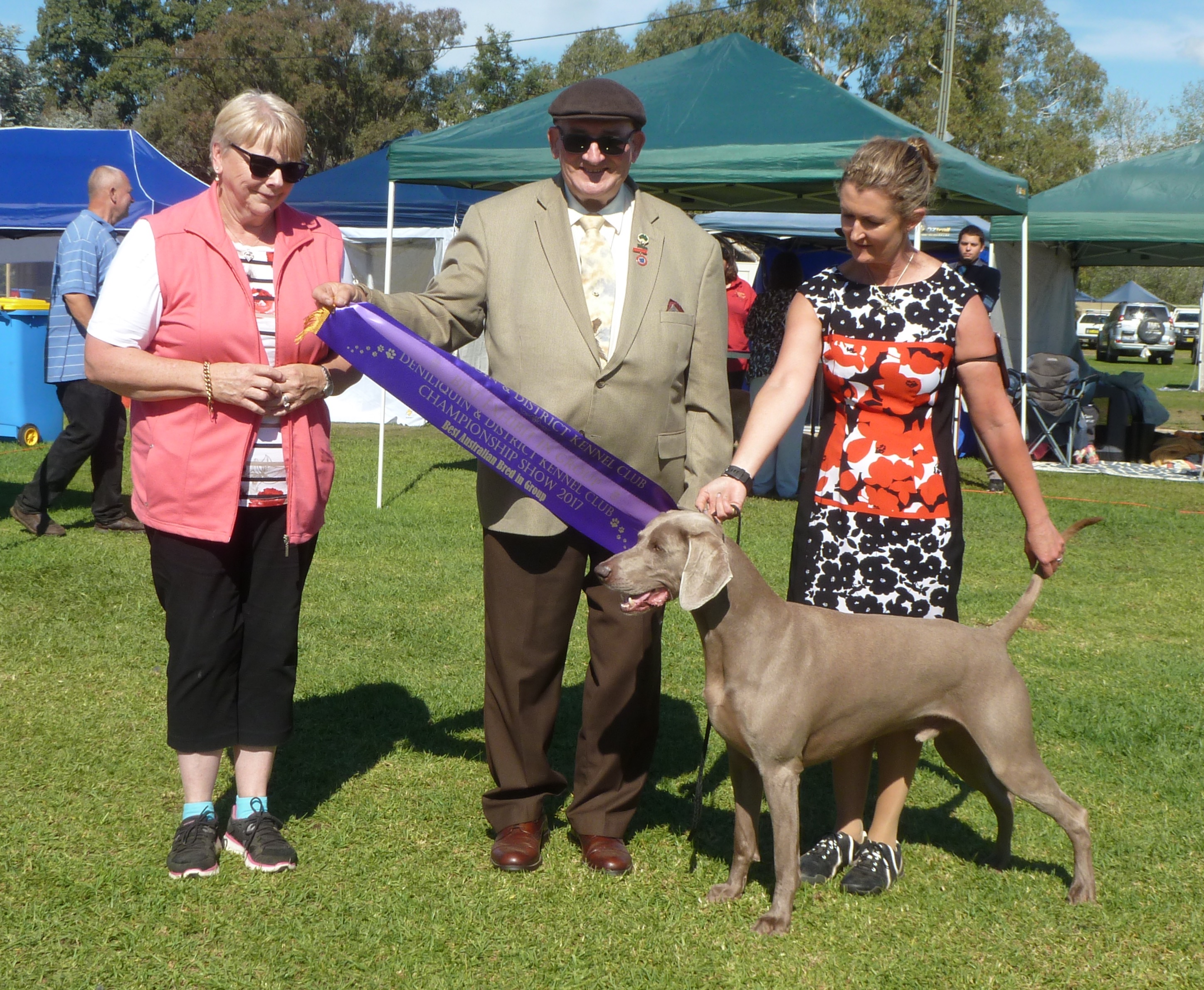 ---
1/3/17:  Picked up our lovely new car - a Ford Territory Titanium
with full leather seats, DVD & lots of other extras.  Fabulous to drive -
very happy !!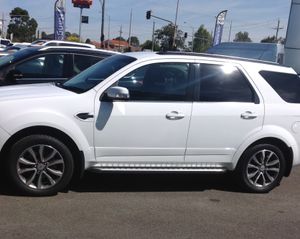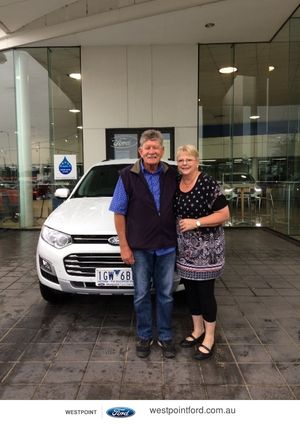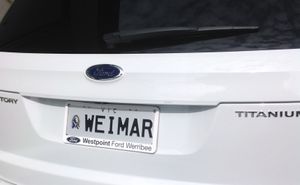 New numberplate !!
---
2/3/17: Our sad news continues with the untimely loss of A.J.
owned and loved by our dear friends Robyn & Al.
We cannot begin to thank you both for all your love
and devotion to not only AJ, but also your dear Beeza.

Who would have thought all those years ago, that
we would have been drawn together and remained
such close friends, all due to the association with our beloved Weimaraners.
Our hearts go out to you and I know that AJ will always be in your
hearts.  Hold close all the wonderful memories you have xx
R.I.P. "A.J'' - Silvasheen Hey Big Spender
1.6.07. - 2.3.17.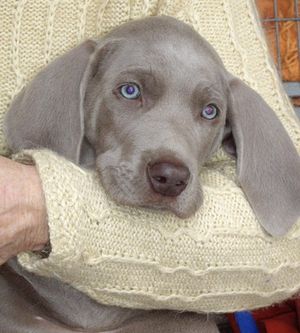 ---
3/11/16:  Another very sad day for us...our gorgeous, smiley Bree
lost her short battle with cancer and she was gently put to sleep today.
A wonderful gundog and a terrific mum to her two litters
of puppies sired by Multi Int Ch/Ch Ashlaren Caipiroska.

No more pain and now running free with her
dear Mum Skye and friend Stan...
RIP my love...we will miss you dearly xxx

Silvasheen Miss Megabucks
1.6.07 - 3.11.16
Aged 9 years & 5 mths old...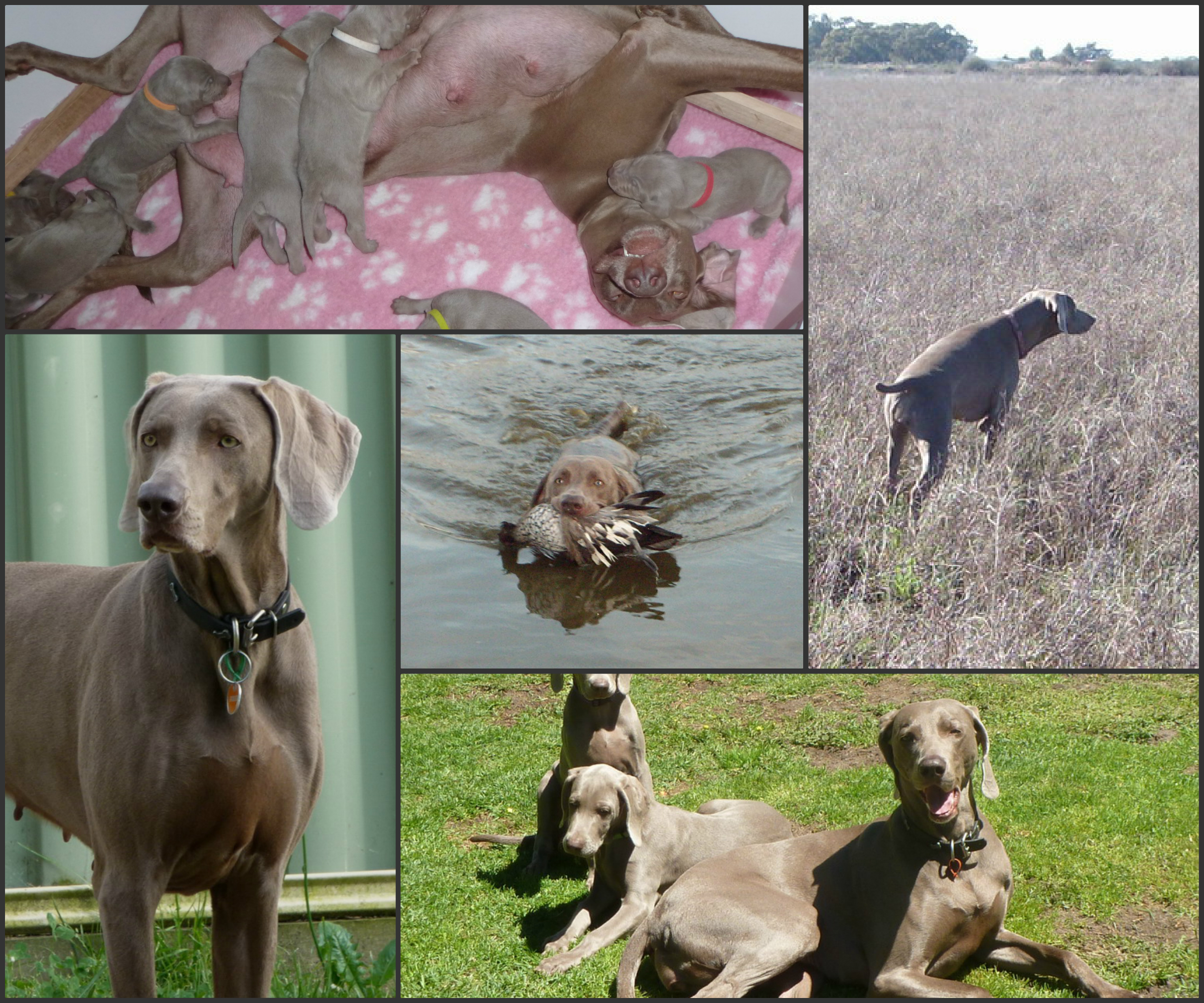 ---

29/10/16: The worst possible news...our dear girl Bree
(Silvasheen Miss Megabucks) has been diagnosed with
Stage 5 Lymphoma and may only have around 2-4 months
to live.  We are absolutely devastated and it is just so
hard to comprehend our lives without our beautiful, smiley girl.
It is particularly hard after losing Bree's mum Skye in July this year.
A truly awful year for us.  We intend to make Bree's last few
months as happy and as comfortable for her as we can.
She is the kindest soul and I know when she leaves us
she will take a piece of my heart with her.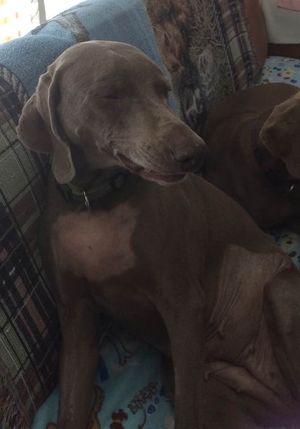 Above:  Our smiley girl Bree, still able to give us a smile even though
she is obviously not feeling terribly well this week......
---
4/10/16:  Happy 1st Birthday to our little whirlwinds
Oscar & Lily.  So full of life and into all sorts of mischief 24/7 !
We love you both to bits (although we can't wait for you to stop
'landscaping' the backyard).  Birthday wishes to siblings - Hunter,
Hana, Ryder & Hugo xx
 
---

14/7/16:  A very sad day for us with the passing of our beautiful
'Skye' - Aust Ch Silvasheen Indian Summer - aged 14 years & 2 mths old.
Skye was without doubt, the best bitch we have bred
over the past 36 years and our hearts are broken.

She has left behind a legacy which will remain for many
years, with her daughter Bree, grand-daughter Bindi and
great grandkids Chardy, Oscar & Lily.

She will remain in our hearts forever.  RIP our sweet girl xx
7.5.02. - 14.7.16.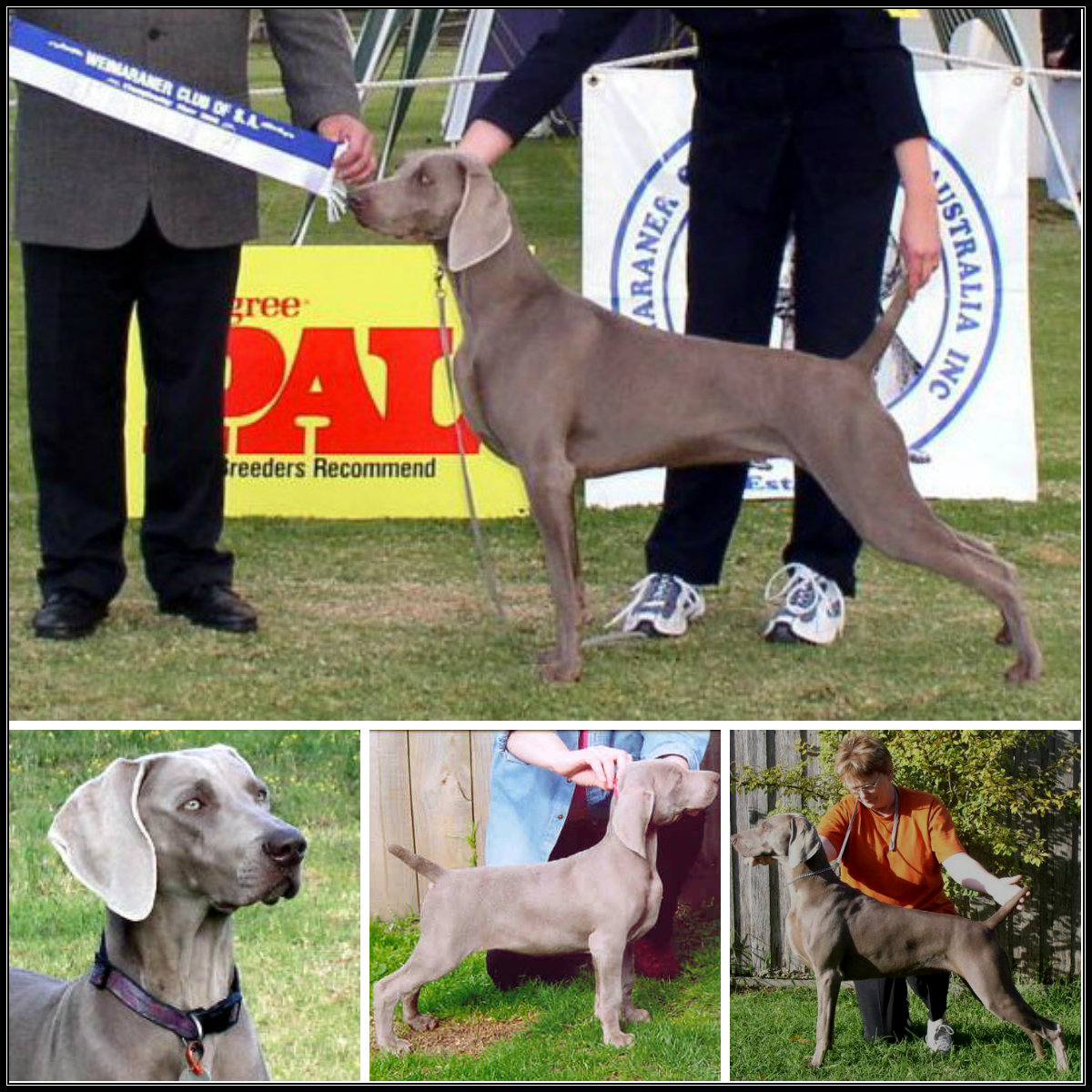 ---

2/6/16: We are so saddened to hear of the passing of
dear "Millie'' - Dual Ch (T) Silvasheen Crystl Vision UD.
Millie's achievements are well documented and we thank
our friend Gail Smith for all her love and care of Millie over
the past 15+ years - a wonderful life, well lived.
RIP Millie & run free with your brother Stan & sister Jade xx