I love watching Antiques Roadshow & Bargain Hunt on
the telly & one thing on my 'to do' list during our visit
was to go to an Antiques Fair.  So after surfing the
net prior to leaving on our trip, I was pleased to see
there was a huge fair at Lincolnshire.  It was about a
3+ hour drive to the fair, so we decided we would check
into the Hilton Hotel in Lincoln overnight and attend the fair
the next day.  Our hotel was situated in a beautiful spot on the
water and what a buzz !!  People everywhere, gorgeous warm
weather, so we headed downstairs, grabbed a table outside,
sat down with a big glass of chardonnay and enjoyed the atmosphere.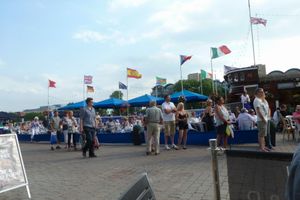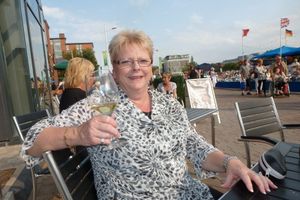 Chris commented that "he spotted Elvis in the foyer"...We all looked at him as if
he had finally lost the plot and he said he was serious....a few moments later,
sure enough there he was !!  Well, almost....We witnessed the most amazing
show, being entertained by what I can only say was the best Elvis Presley
impersonator I have ever seen !  Some can look like him, but the voice always
lets them down.  Not this guy !  He was absolutely brilliant - with the most fantastic
voice.  I was lucky enough to have my photo taken with him after the show, purely
by accident
  His name is Simon Patrick and what a showman !!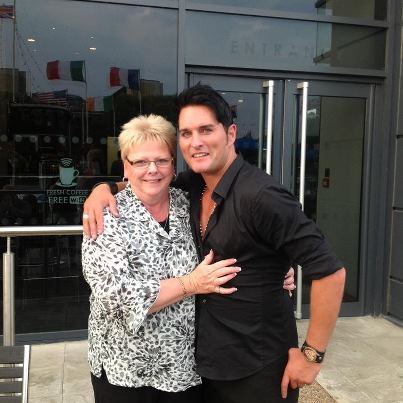 Above:  My nephew William took this photo and I was
mortified to see where my hand was resting

Aaah well, you only live once !!!!

BELOW: And here's the man himself in action on stage !!
Just brilliant....