Some photos of my trip to Dubai in January 2014.
I travelled over with 'Millie' (Silvasheen Nites In White Satin) -
one of our puppies from Bindi & Arnie.

Millie was joining the Harrewijn family of Patty, Louis
and of course, our dear Miles, who went to Singapore
to live (since relocated with his family to Dubai).

I had the most wonderful 6 days in Dubai, helping to
settle Millie into her new home.  Thank you to our dear
friends Patty & Louis for making my stay so very special !!
I had a great time with you, seeing all the sights,
eating and drinking fabulous food and wine :-) and
finally meeting lovely Gina, who I can see loves the
dogs as much as we do !!
Can't wait to see you all again soon xx


I visited some beautiful places during my visit - one of them being
Bab Al Shams Desert Resort & Spa,
where Patty, Louis and I had a wonderful night of entertainment, food, wine &
I even rode a camel !!
I also realised a childhood dream of seeing Arabian horses in their
place of origin.  We visited the Ajman Horse Show where I was
in total 'horse heaven' !  So lucky to be able to hold and pat a
truly stunning, grey Arabian mare (see photos of horse show below).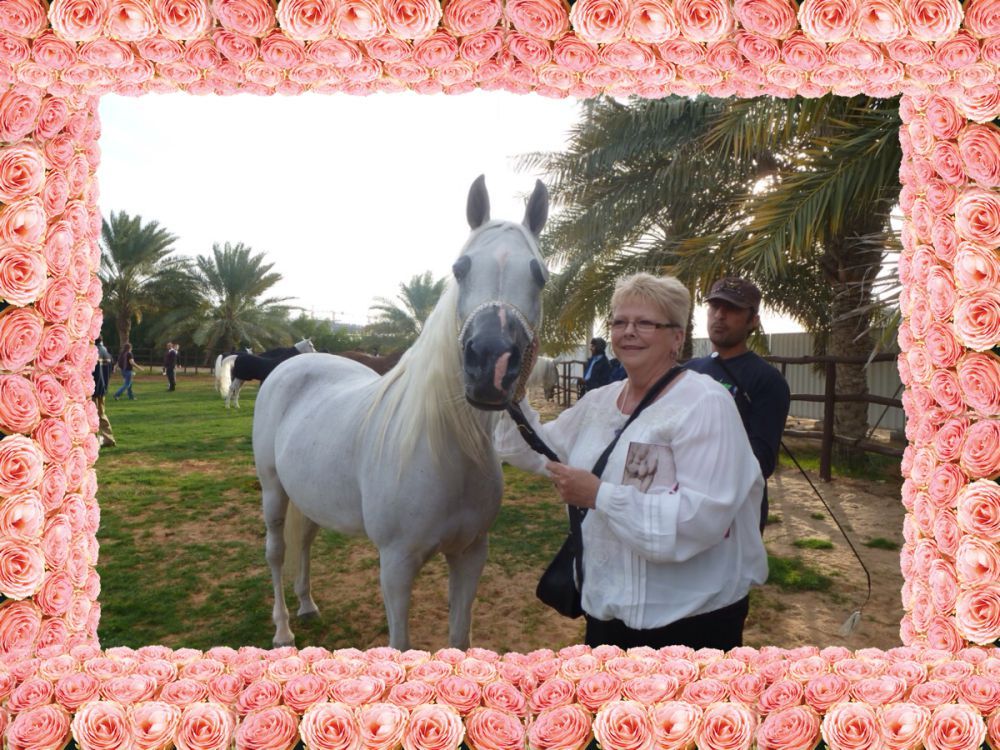 Upon arrival at the show, we asked where we could sit and a fellow
said we could sit on the very plush, white sofas.  I thought this was
a little strange, considering everyone else was sitting on fairly ordinary
looking chairs and I was absolutely right !  Five minutes later, we were asked
to move onto the chairs, then everyone stood up and the Sheikh of Ajman
& his family arrived and promptly sat where we had been sitting ~
so funny, but could have been very embarrassing :-)


Of course, the main reason for my trip was to accompany
one of our puppies (Millie) from our beautiful Bindi/Arnie litter in
August 2013 and also to finally visit Patty, Louis & Miles.

After a long 14 hour flight, during which time I was constantly
worrying about our precious baby in the cargo hold, Millie
arrived safe and sound, albeit very tired.  We picked her up
from Dubai Kennels & Cattery and we cannot thank them enough
for all their care and wonderful communication during the whole process.
A special 'thankyou' to Janet & also to Nicole from Jetpets in Melbourne !

A short drive later and Millie was in her new home and making friends
with Miles and Patty & Louis' helper, the lovely Gina.
Suffice to say, Miles and Millie are now inseparable as I had hoped.

Miles celebrated his 4th birthday during my visit, so of course it was
the perfect opportunity to hold a party ! A combined birthday party for
Miles & a 'Welcome Home' party for Millie was one of the highlights of
my trip. We had such a lovely day, with many of Patty & Louis' friends
attending and also Miles friend Leo the gorgeous Golden Retriever.
I think Leo has fallen in love with Millie, as he hardly left her side !

Can't wait to see you all again soon xx