After boarding the Eurostar train at St Pancras Station, we were on our way to Paris !  The trip was supposed to take just over 2 hours, but the time seemed to fly by very quickly.  It seemed very surreal to think that we were speeding through an underground tunnel under the English Channel one minute and in France the next.  After arriving at the station, we caught a taxi and made our way to the apartment where we would be staying for 3 days.  It was a self-contained apartment with it's own cooking facilities, fridge etc, so we were able to buy our own food instead of eating out all the time, plus we did not really want to walk around the area at night on our own.  The apartment came with a small balcony which overlooked a fountain and a very busy 'town square'.  This was a very busy place, with people coming and going at all hours of the night and seemed to be a meeting place for lots of young people - some nice and some not quite so nice !!!  The French police seemed to be very busy here and maintained a strong presence morning and night.  We even saw several policemen on rollerblades !  We were within walking distance to Notre Dame, The River Seine & Louvre.
(Below is the view of the fountain from our balcony by day and night.....)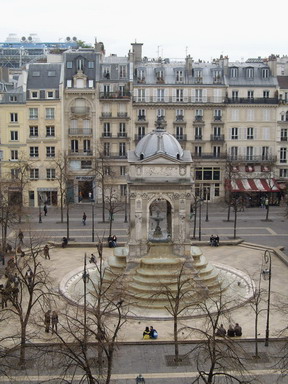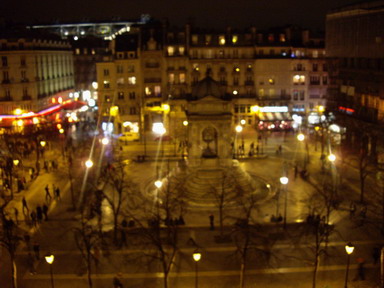 We were up early the next morning and walked over the bridge and the Seine river and made our way to the Louvre.  We spent the entire day there and it was just amazing to see some of the beautiful works of art that we had only seen in books.  I was dying to see the Mona Lisa and I had heard reports that it was very small and not very exciting to see.  Well, I think that was a matter of opinion !  She had a wall all to herself and was just beautiful.  The area was roped off and the sightseers were 4 deep.  You had to bustle your way to the front to get a good view and I managed to get as close as I could to take some photos.  The painting was behind glass and it was very difficult to get a good shot, as the light was relecting off the glass, but I did get one or two fairly good shots.  We saw Venus De Milo and that was stunning.  We saw many other beautiful paintings by Leonardo Da Vinci, Rembrandt and also some very interesting tapestries which showed lots of dogs which looked very suspiciously like the early Weimaraner.  After nearly seven hours taking in nearly everything there was to see, we wearily headed back to our apartment to get some well earned rest in readiness for our trip by train to Versailles to visit the Palace of Versailles the next day.

(Below left: Mona Lisa & at right: Venus De Milo).....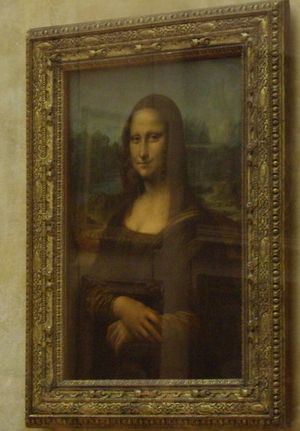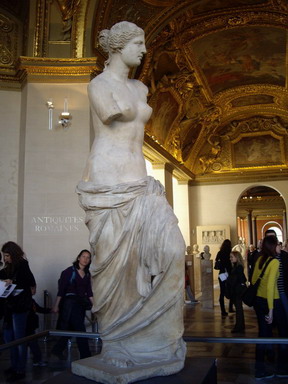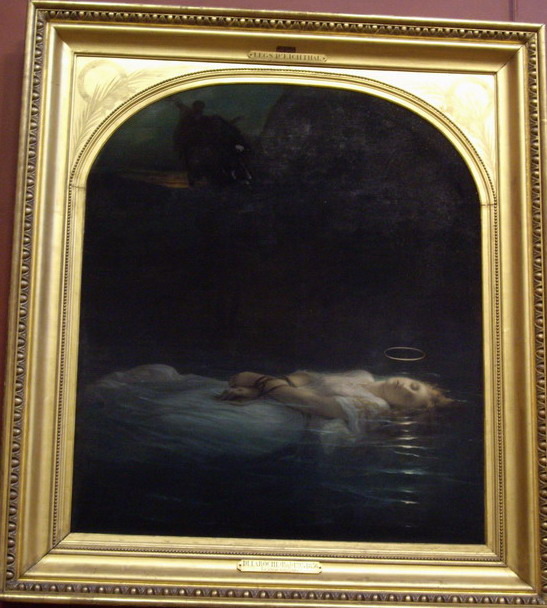 One of the most hauntingly beautiful paintings I saw at the Louvre
was the one above called 
'La Jeune Martyre' ('The Young Martyr' ) by Paul Delaroche, 1855.
I could not take my eyes off it.  It is the sort of painting that makes you
gasp and stand and look at for ages.  It was situated in one of the
grand halls, up fairly high on the wall (hence my crooked photo  :-)
This painting is imprinted in my memory and I hope if I ever return to
 Paris & The Louvre, I will take more time to just sit for a moment and enjoy it.

Below are some of the photos I took in Paris & also at the Louvre and Notre Dame...


Notre Dame is one of the most beautiful churches in the world.  We only spent a very short time visiting the church, as it was our last day in Paris and we were limited for time, however it is something I will always remember.  I lit a candle for my dear Mum and said a little prayer for her.  I was very surprised to see that we were allowed to take photos while inside, though we could not use the flash.  A service was beginning while we were there and it was just wonderful to feel the atmosphere of actually being inside this beautiful church.

(Below: Mum's Candle....)