PUPPIES
** Please note: We are not breeding any further litters **
Bindi whelped a beautiful litter of 4 males & 2 females
on 4th October 2015.
Sire of this much awaited litter is the very handsome 'Riley''
ENG SH CH KALIMOR CELTIC STORM AT AARRANZ (JW)
(photos of Riley can be seen on
Bindi's Page
)
Photos of the puppies below @ 3 weeks old...
Raising a litter of puppies is definitely a labour of love and something
we don't enter into lightly.  We usually only breed a litter when we either
wish to keep a puppy for ourselves or if we have the demand for them,
therefore it is not unusual for our kennel to only breed a
litter once every few years.

Our puppies are raised in our home, with Di & Chris sharing the puppy-raising
duties. One of us is always at home keeping an eye on things 24/7.
The whelping box is situated in our lounge-room, with Di & Chris taking turns of
sleeping on the couch in shifts.

Our puppies are subjected to all the normal noises in a household,
  - i.e. television, radio, vacuum cleaner, motor mowers,
whipper snippers and general comings & goings of everyday life
in a household right from the moment they are born.

Both Di & Chris have been known to
catch a few Zzz'ss in the whelping box with the puppies (we have the
photographic evidence to prove it) !! 

(See Chris below at 5.30 am having some bonding time with
some of Bree & Oska's 11 beautiful babies..love the 'bed hair Chris' !!!)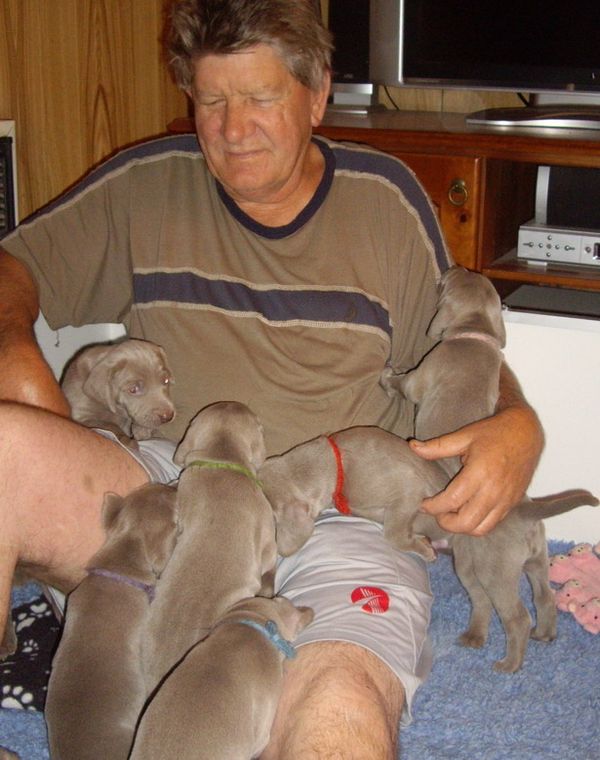 All puppies are vet-checked, vaccinated, regularly wormed, microchipped,
and registered with the VCA (Dogs Victoria).  We have a comprehensive puppy
information folder available which will contain all the necessary
registration papers, vaccination and worming information, diet sheet and
so much more, with helpful tips on desexing, training, health problems
and enjoying life with your Weimaraner.  We also provide a year's complimentary
full membership to the Weimaraner Club of Victoria Inc.

All our puppies leave with a large amount of food to which they
have been accustomed, in order to make the transition into their new
homes as smooth as possible.

We are of course, always available to contact at any time during
the course of the puppy's lifetime and we love to receive regular
updates and photos.  We still have previous puppy owners staying
in touch with us for 20 - 25 years and firm friendships have been formed,
all due to our common love of the Weimaraner.




Below is a collection of some
puppy photos and other photos taken over the years,
of our very first Weimaraners Zac (Greybeau Archilles) 
& Tara (Greylag Silva Warena) in 1980 & 1981,
our foundation bitch Callie - (Grauhund Hi Calypso), 
and our first litter in April 1983, right up until 
our most recent litter in August 2013 ~
...(photos shown in no particular order).