Sire:  Am/Can/Gr Ch Divani Loads 'A Trouble (AI)
Dam:  Aust Ch Silvasheen Iced Coffee
Whelped:  21st March 1995

R.I.P. our beautiful girl
21.3.95. - 29.10.08.





Demi lead a long and very happy life.  She was my best friend and
was always there beside me for as long as I can remember.
She was born at our local vet surgery after her mum Phoebe
(Aust Ch Silvasheen Iced Coffee) had a little trouble delivering
her litter of 3 puppies.  Demi was the last puppy born, after her two
brothers.  I was hoping for a girl to keep and I got my wish.
Her brothers were born first and after one last shot of oxytocin,
Phoebe delivered her girl.  I broke the sac and breathed into
that tiny nose and from that moment on, she was mine.
Words cannot begin to describe just what a magnificent girl
she was.  A brilliant gundog with natural ability in the field,
she was a gentle soul, who was just happy to be with her family.
I will miss her desperately.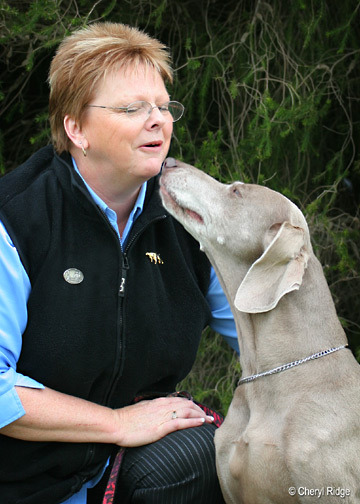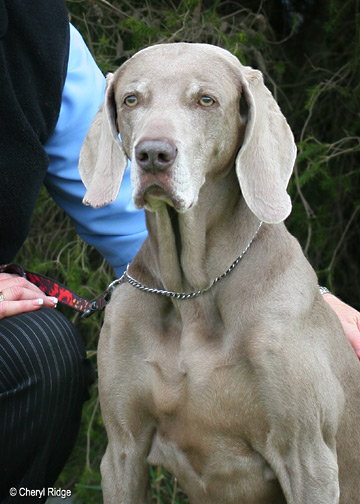 Above: Demi pictured at 13 & a half years old on 20/9/08...
and below in the Veterans' Parade at the Weimaraner Club of Victoria's
2008 Championship Shows...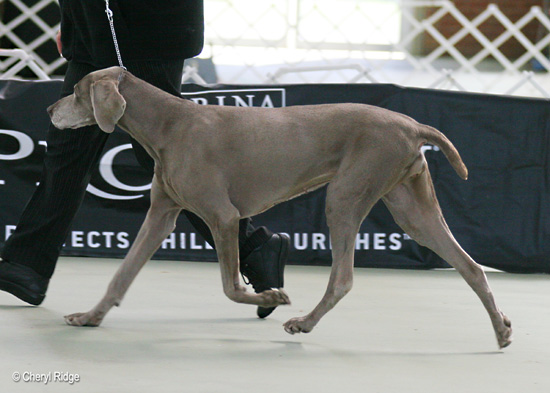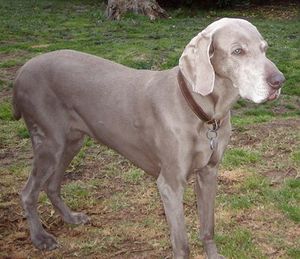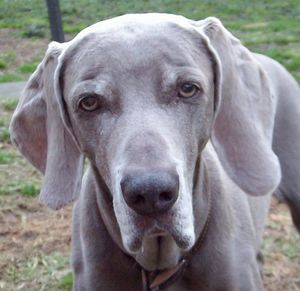 Above: Demi pictured at 13 & a half years old on 13th September 2008....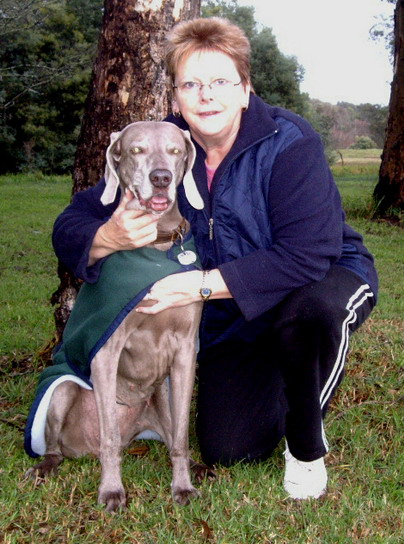 Above ~ 22/6/08: Demi with Di on an early morning run to the river...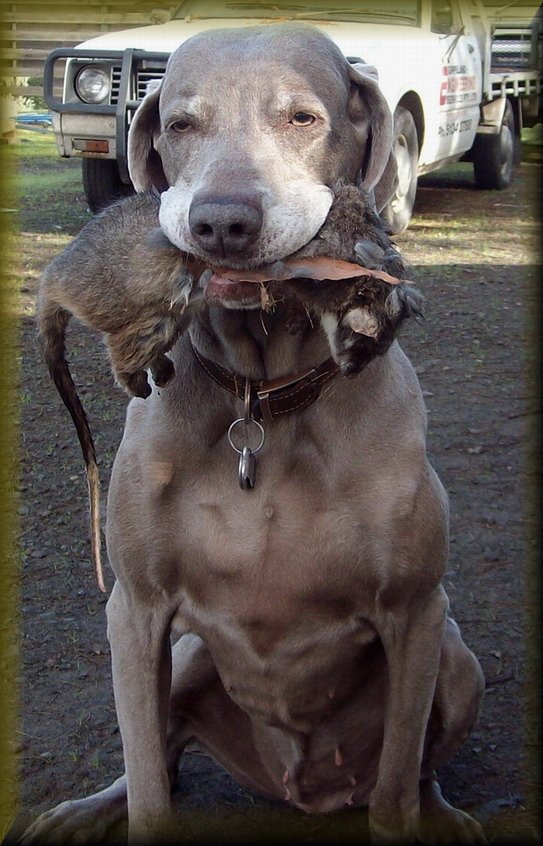 Demi pictured above on 11th June 2008

Above:  Demi disappeared for 5 minutes on
a run to the local gunclub and reappeared with her 'prize' (a possum) above.
Obviously, the hunting instinct is still strong even at the grand old age of 13+ !!




Known to all and sundry as 'Demi the Dragonslayer',
Demi reached the grand age of 13 years and 7 months. 
She was full of beans right up until the end and enjoyed what seemed
like a second puppyhood with Bree, running around with toys in her mouth and
stealing our shoes from under our noses

(Pictured below at 12 years & 3 months old)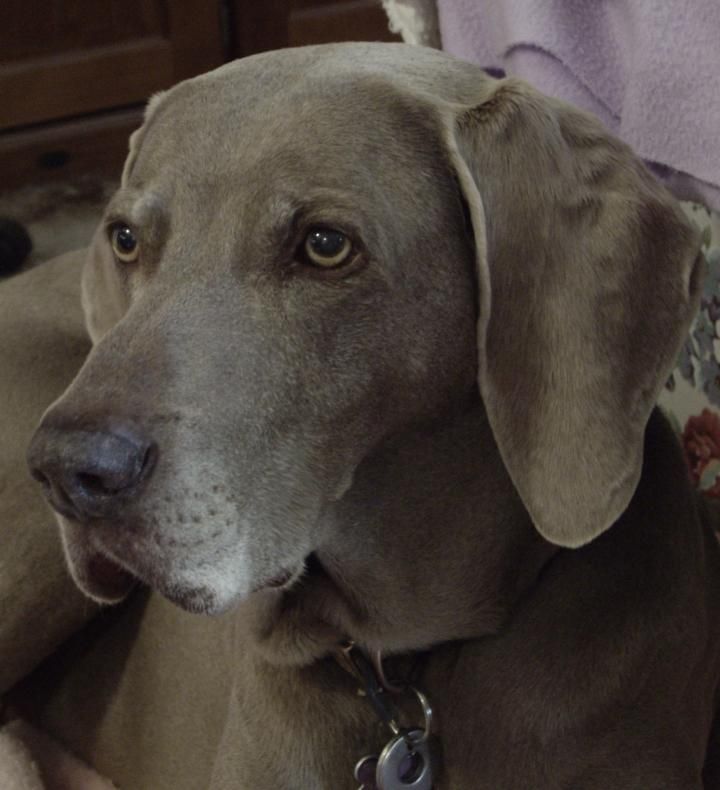 She delighted in terrorising those who unwittingly 
came too close to the car on outings....
She was a big softie at heart, her bark was worse than her bite
and she was all noise...still wagging her tail in delight when 
she saw the look of what could only be described as
terror, on her victim's faces


 She was a fabulous gundog and enjoyed her trips out hunting.
She was one of the most versatile bitches we have bred and was the dam of :

Dual Ch (T) Silvasheen Crystl Vision UD, 
Ch Silvasheen Field ODreams CDX 
& Silvasheen River ODreams.  

This litter was Demi's second and was sired by the lovely dog - Ch Jujondy Crazy Horse & all 
progeny have proved to be successful in all disciplines - 
i.e. hunting, obedience, tracking & showing.  
We are proud of their achievements & look forward to further success in the future. 
Demi was Di's "baby" and was never too far from her side.

Her first litter was sired by the beautiful US import
Am Ch/Aust Ch Tradition's Tradewind Ke Nani (Imp. USA)
and was a lovely litter, with some quality puppies produced.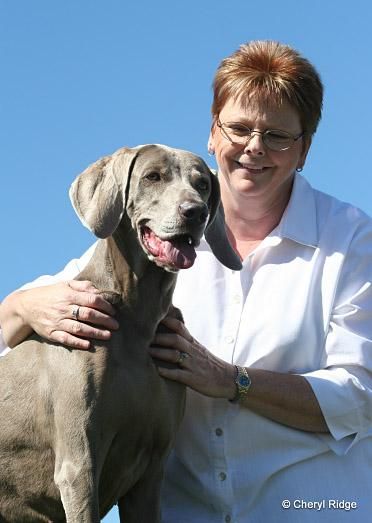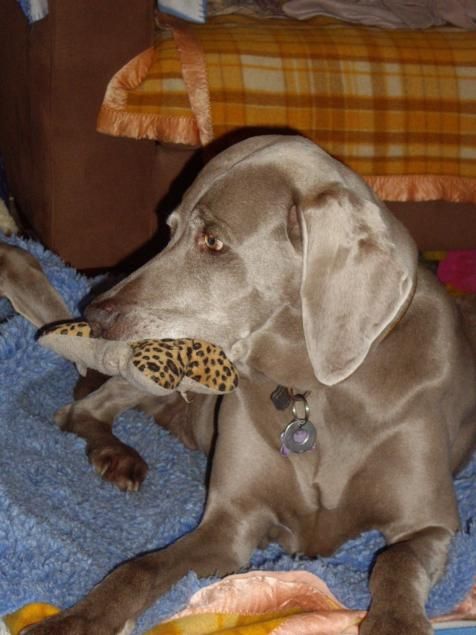 Above: Still a big puppy at heart...


Below: Demi pictured on 23rd January 2008
~ just 2 months away from her 13th birthday....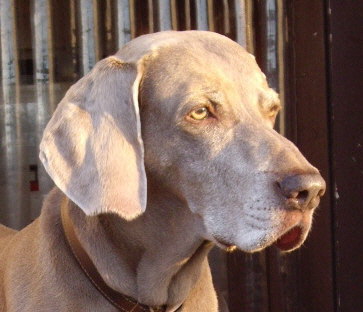 Below: People have asked us, "what's happened to her right ear ?"
Well, on an early morning run to her favourite spot at the river,
Demi decided she would follow Skye under a barbed-wire
fence.  She didn't quite make it and she ended up tearing about
a quarter of her ear off.  After a frantic trip back home, with
blood literally spurting everywhere in the car and trying to
stop her shaking her head, it was straight to the vet's surgery. 
It's not an easy task making a Weimaraner stop shaking it's head at will. 
Forget the Elizabethan collar and taping the ear to the head - it doesn't work !
 It took many weeks for Demi's ear to heal properly.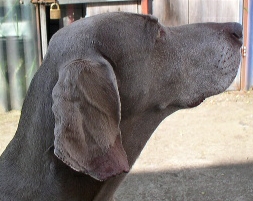 Ch Silvasheen L'Bit Dangerus
Am Ch Nani's Baht A Pack A Trouble JH (USA)

Ch & Am Ch Deerpath's Charlemagne (Imp. USA)

Am Colsidex Medicine Show (USA)

Am Ch Colsidex Symphony (USA)

Ch Silvasheen Iced Coffee

Am Ch Nani's Cobbie Cuddler (USA)

Ch & Am Ch Deerpath's Charlemagne (Imp. USA)

Ch & Am Ch Deerpath's Charlemagne (Imp. USA)

Ch Monroe's Zebedee (Imp. UK)