Sire: Multi Euro/Aust Ch Ashlaren Caipiroska
Dam: Silvasheen Miss Megabucks
Whelped:  10th January 2010



27/6/17:  We are thrilled to say that at the age of 7 years old, Spook has finally gained his much
overdue and very well deserved Australian Championship show title in May. 
Spook finished his title on a high note, going Best Exhibit in Group 3 and then one
step further, winning Best Australian Bred In Show at Deniliquin shows. 
Spook was very ably handled by Kirstin Bullen in his class and in the Aust Bred In Show line up. 
I had the wonderful thrill of handling him myself to win the Group (so pleased my old,
arthritic body held up long enough to run around the ring !!)  So very happy our beautiful
boy can now be known as - Aust Ch Silvasheen Oska Dlarenta - it's been a long time coming !
Thank you to our dear friends, Sarah & Steve Bekker (Spook's co-owners) for ensuring
our boy was in tip top condition for the shows.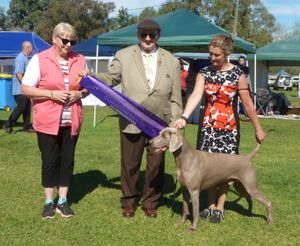 Above: Spook with Di & the judge & Kirstin after
winning Best Exhibit in Group 3 at Deniliquin show.
Spook then went on to win Best Australian Bred In Show..
a wonderful way to finish his show title !!
 
---

 4/4/16:  A long time since a Spook update !
Spook had not been shown for over 3 years,
however, we ventured up to the Myrtleford shows
a few weeks ago and I was thrilled when Spook
went Best of Breed at the Saturday show, snaffling
some more points towards his much overdue show
title. He was beaten by a much younger dog the following
day, however, we headed home happy in the knowledge that
we only need another 18 pts to go to reach the magical 100
for his show title.  It was lovely to catch up our dear friend & Spook's
co-owner Sarah.  Thank you for your wonderful hospitality ! 

A few shows are being planned for the
Winter months and hopefully, we will finally realise our
long held dream of Spook becoming a champion.
Thanks again to Sue Culbert for handling Spook at Myrtleford xx
---
16/9/14:
Spook is now living in Myrtleford Victoria
Hopefully, we will finish off his final points for
his show title early in 2015.
Spook is available at limited stud to selected bitches only.
23/9/12:
Spook pictured below with handler & friend
David Hall.  His first show in nearly six months,
Spook was placed 2nd in a very
strong Australian Bred Dog Cla
ss under US Judge
Mrs. Stephanie Hedgepath.
Our thanks to both David & Deb Ryan
for doing such a fantastic job of handling
Spook at the Wei Specialties & Melbourne Royal.


(Photos by:  Ffiona Erskine)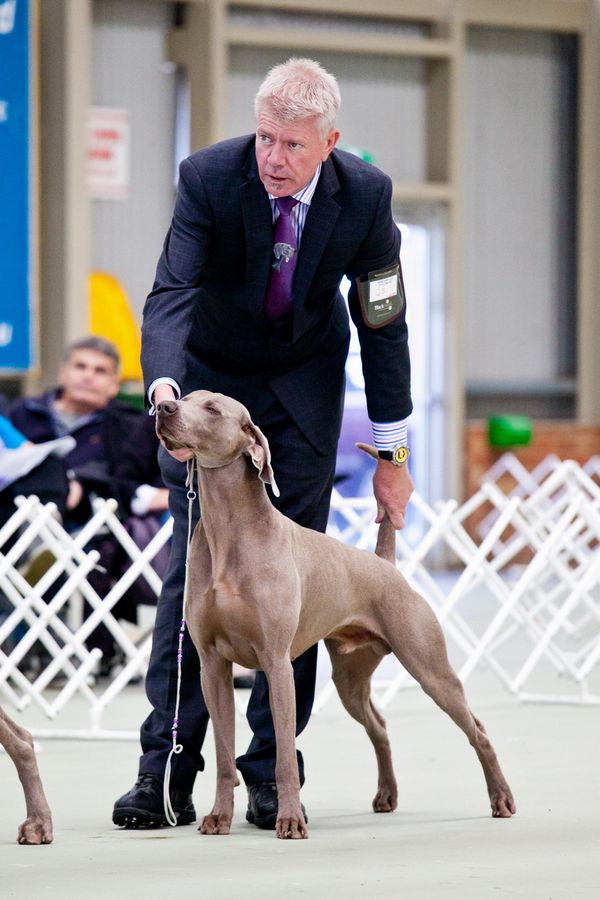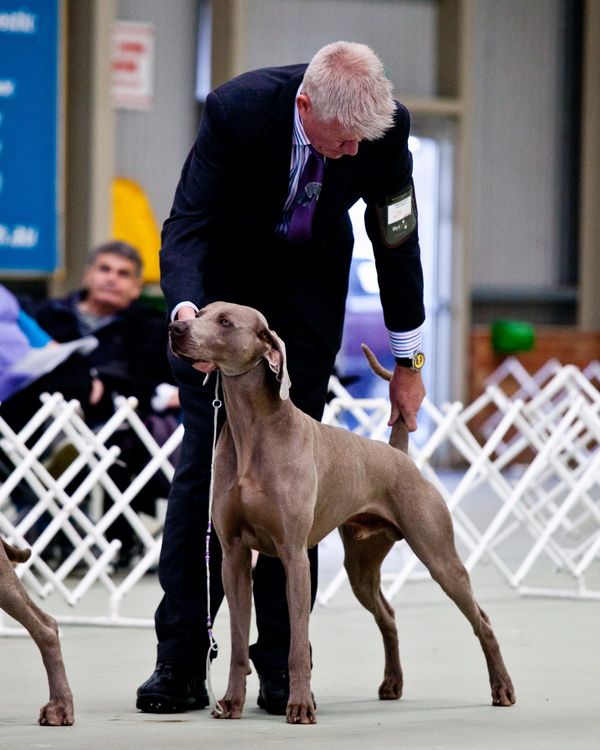 Above: Eyes open in this one
Royal Melbourne Show ~ 2012
'Spook' being expertly handled by
David Hall of Griseus Weimaraners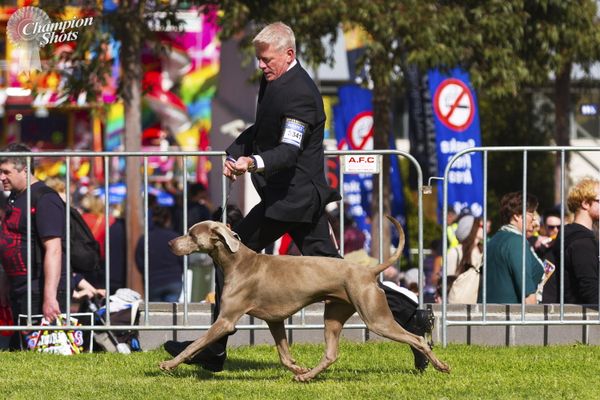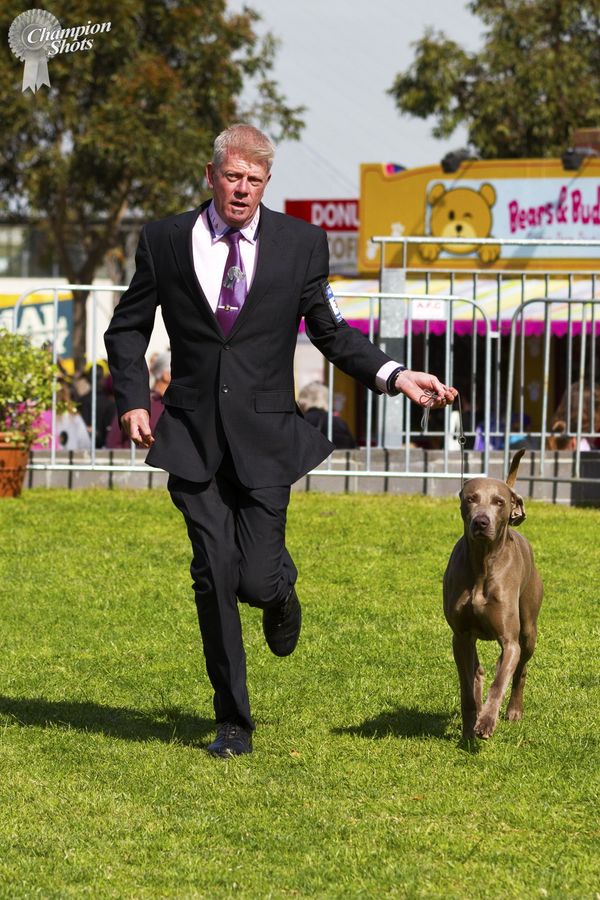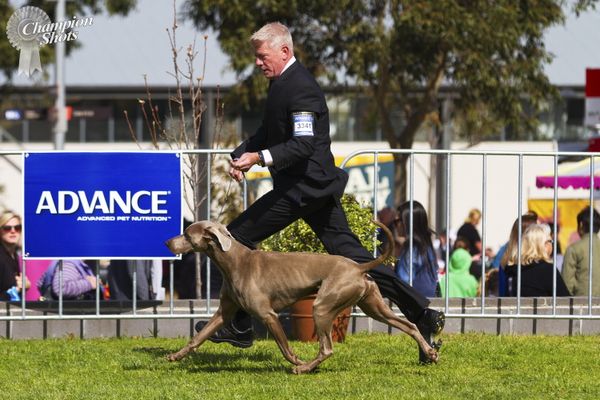 15/6/12:  Spook will be based in Adelaide with
his family for the next 3 years.  He will return to Victoria
and visit us regularly for some of the larger shows
and Wei specialties.  We hope to finish off his
final points towards his show title later in 2013.
Below: Spook pictured @ 2 years & 5 months old...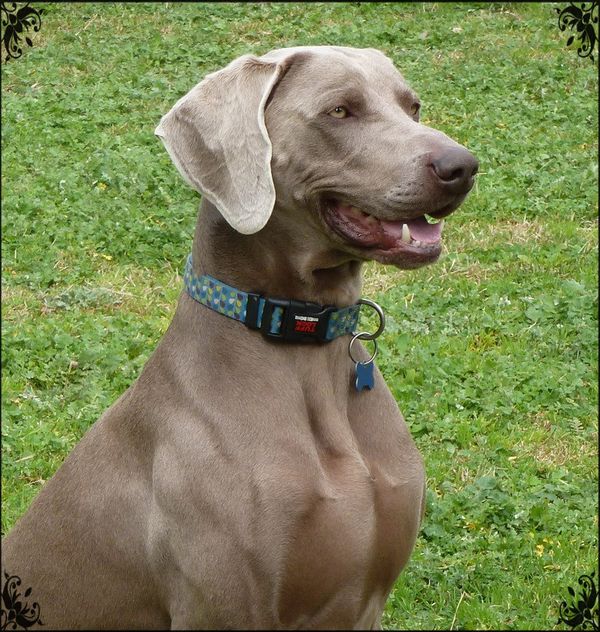 10/4/12:  A successful 3 days for Spook over the
Easter break - adding another 22 points to his
growing tally. Only another 26 points to go !
Our thanks again to Lorraine Brennan for
doing a beautiful job of handling Spook....

A fun weekend away with Spook and Bindi
and enjoying the company of friends....


12/3/12:  Spook wins Best Of Breed and was
shortlisted for the Group at his first show since
arriving back home from the US.  This was
his first show in 16 months ~ a little rusty and
still a few kilos underweight, but we were
thrilled with the result.  Many thanks to
Lorraine Brennan for showing Spook
and doing such a great job !
Updated photos of Spook here soon....




9/3/12: Spook is a dad !
We look forward to seeing the
progress of his first litter of 3 males
& 3 females from 'Lucy' ~
Dual Ch (T) Weisnjac Shes Got The Look..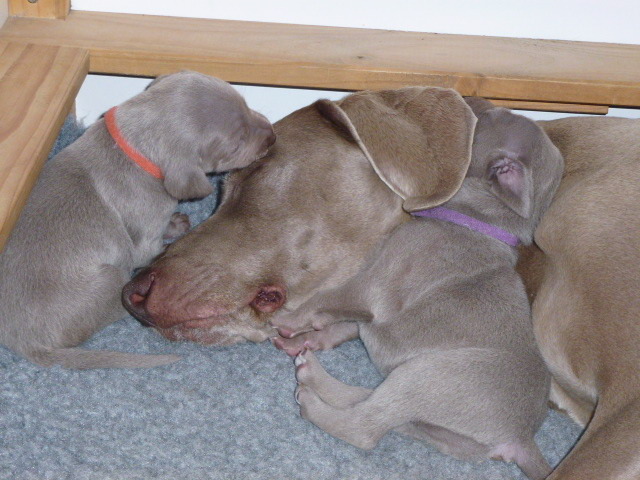 Above:  Finally...'Motherhood' for Lucy !!!!
(Lucy with two of her much awaited babies...)


9/12/12:
HE'S BACK !!!
Spook has arrived back in Australia
and will be seen out and about
in the showring after completion of
his month in quarantine...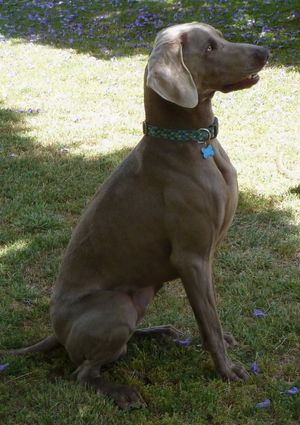 .
Above: Spook pictured at home 2 days after
being released from quarantine...
Looking a bit thin, but he should be back
to normal again in a month or so...
Below:  Photos of Spook enjoying a romp in the snow in the US
and some 'chill out' time
with his friend Augie...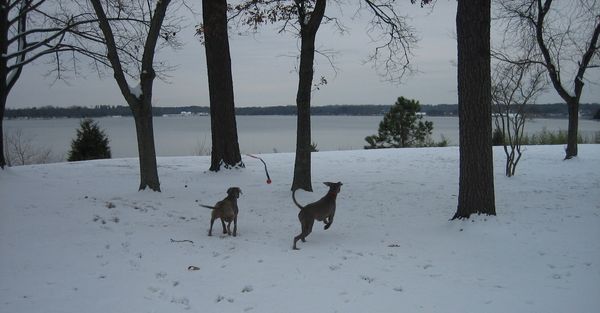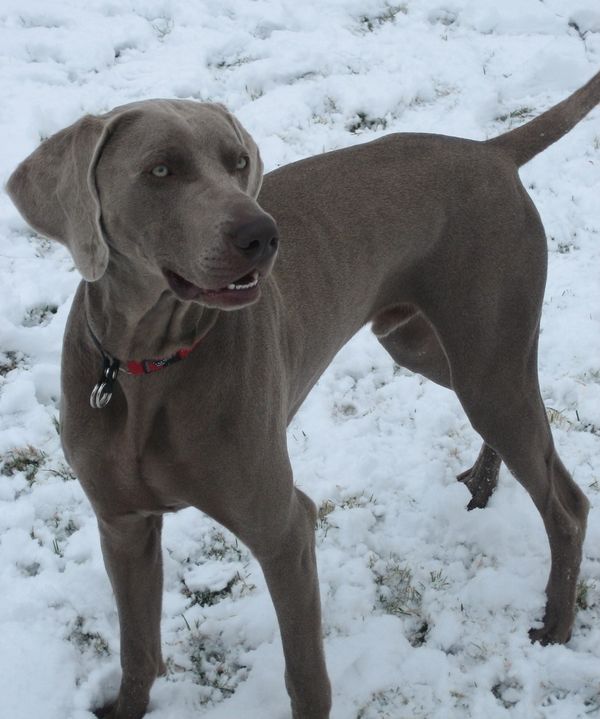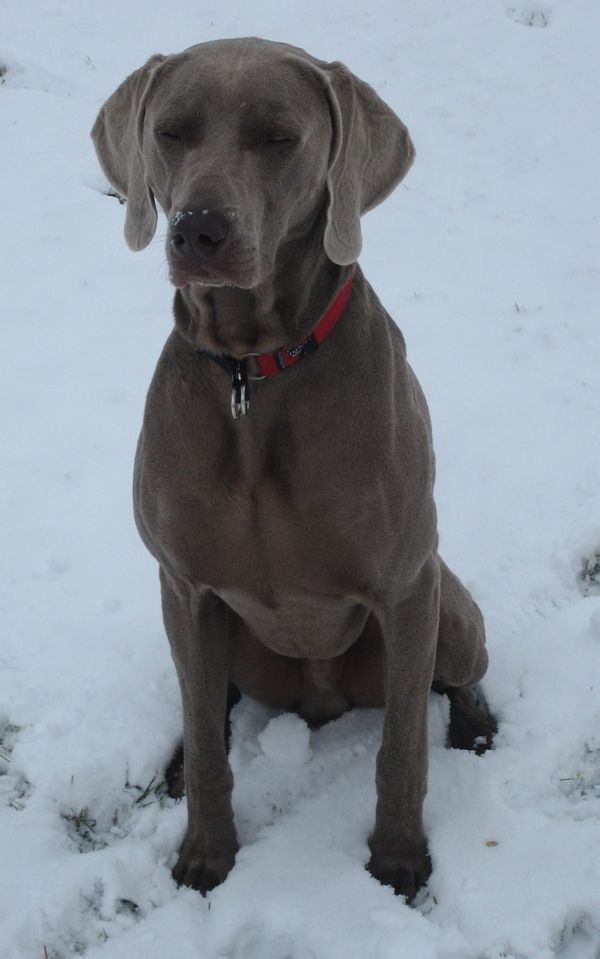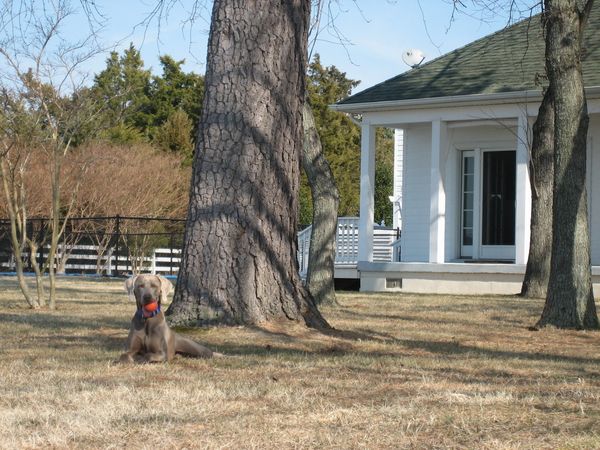 Above:  Spook playing ball....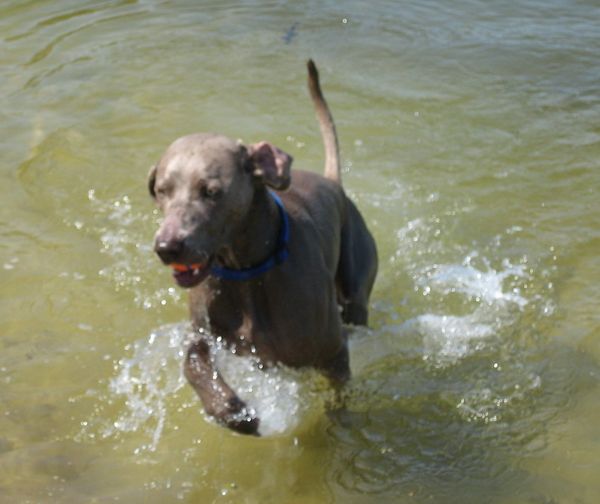 Above: Spook having fun in the water...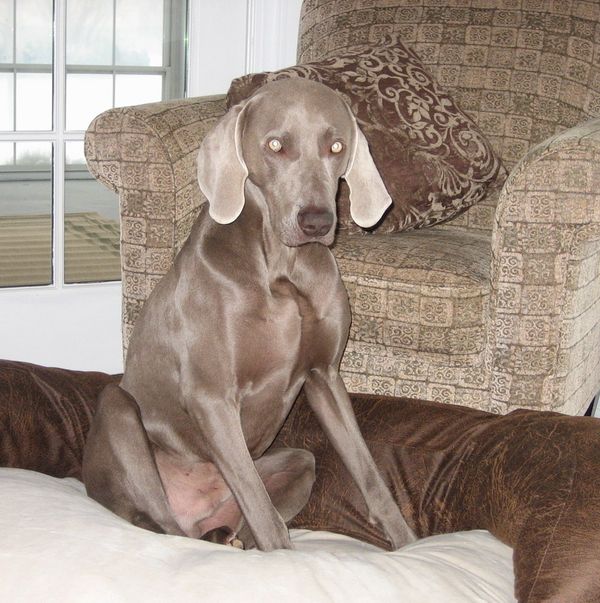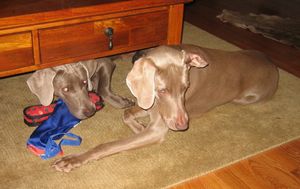 Above Right: Spook stealing all the toys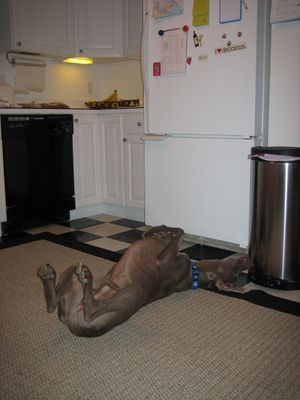 Above:  Taking it easy in the kitchen !         
Spook continues on his winning way with some
terrific results at Morwell All-Breeds Championship Shows.
DOG CC & BEST OF BREED both days...
PUPPY IN GROUP both days...
RUNNER UP IN GROUP on Sunday.
Bindi was a good girl on Saturday -
winning

BITCH CC & R/U BOB.



(Spook pictured below with Saturday judge:
Tracey Mol of WA.)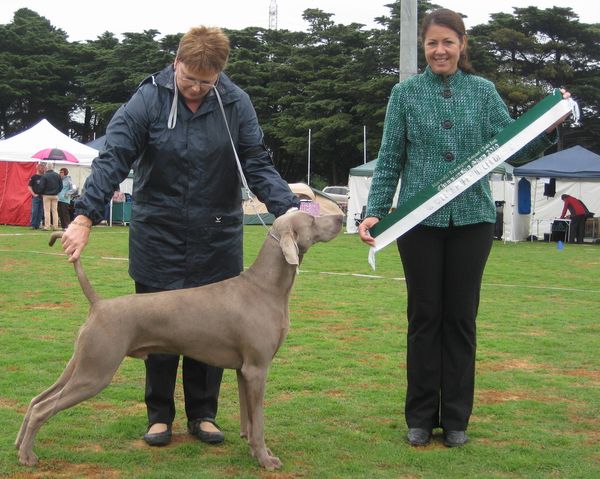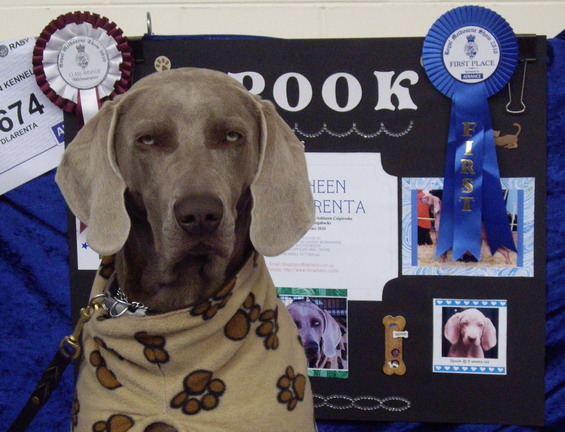 Above & Below: A sleepy Spook pictured at the 2010 Royal Melbourne Show
aged 8 & a half months old...the day after winning
MINOR PUPPY IN SHOW
at the Weimaraner Club of Victoria's
Specialty Show...(photos here soon)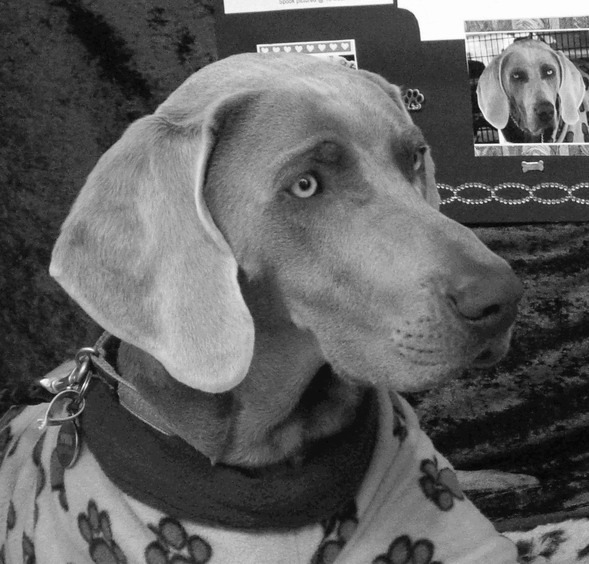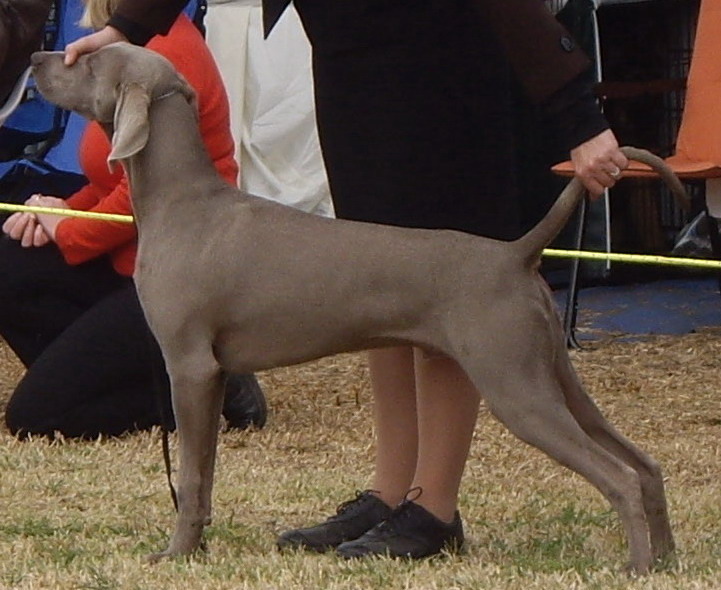 Above & Below:  Spook at Sale-Maffra Champ. Show ~ 29th August 2010
@ 7 & a half months old.  Handled here by Jenny Cattell.
Dog Challenge & Best of Breed - (Judge: Mrs. E. Whitney - Canada)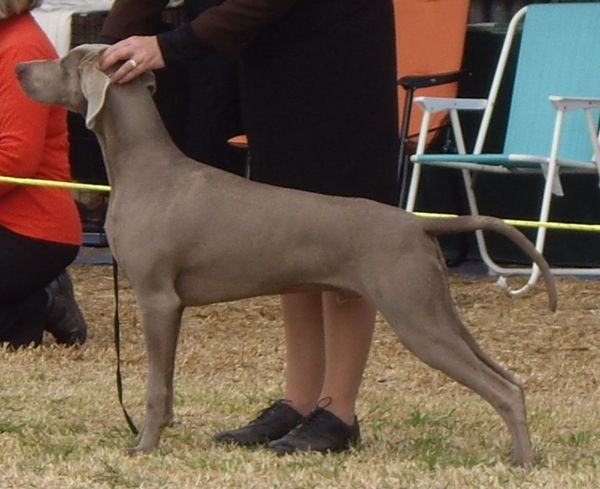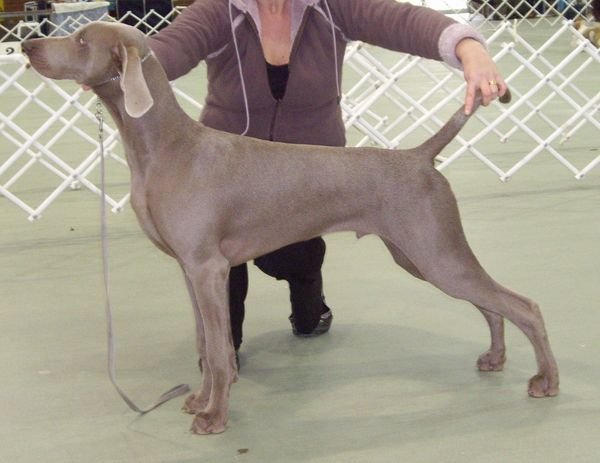 Above:  Spook @ 5 & a half months old, at a show in Melbourne
on 27th June 2010. (Handled by Deb Ryan)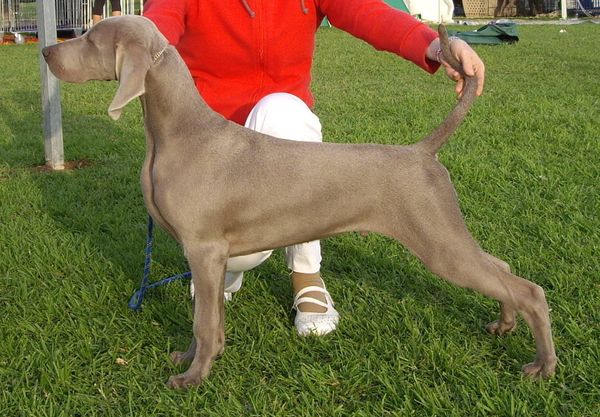 Above: Spook at the 4th Weimaraner Nationals ~ 2nd May 2010
@ 15 weeks old.
Graded 'Very Promising'
(Our thanks to Rachel Stock for stacking Spook here)
We are thrilled to have the opportunity to have a stunning son from
Oska & Bree.  Spook will live with Sarah & Steve Bekker
of Briagolong.  Sarah & Steve had Stan's litter brother Willie.
Sadly, Willie lost his battle with cancer at a relatively young
age and we are very happy to place Spook with Sarah & Steve.
Willie can never be replaced, but we hope Spook will bring
much happiness to them over the years.
*** SPOOK IS HEADING TO THE U.S !! ***
Due to a new posting with work, Steve & Sarah will be
heading to the United States in September for a period of 15 months,
before heading back to Australia, where they will then
be
based in Adelaide.  Spook will be in Australia until December.
 We wish Sarah & Steve well with this fabulous opportunity
and look forward to Spook's return to Australia and hopefully,
finishing his Australian championship, albeit a little later than
we anticipated. 

We will miss our little man, but the time will fly by quickly
and he will be back before we know it !
***  SPOOK WINS BABY PUPPY IN GROUP
AT HIS VERY FIRST SHOW ! ***
(Special thanks to Suzanne Mayhew for doing a great job of handling
Spook to this win
  Spook pictured below at the show...)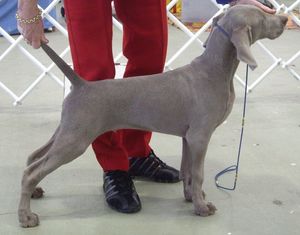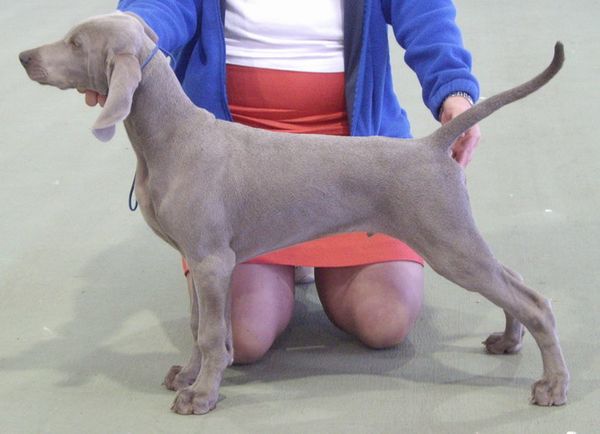 AND THEN GOES ONE BETTER AT HIS SECOND
METROPOLITAN SHOW* TO WIN
*(Caulfield & Dist. Kennel Club - All Breeds Championship Show -
Total entry - 1099)
*** BABY PUPPY IN SHOW ***
(Under Breed Specialist - Mr. Keith Simmons - Carnmellis Weimaraners ~ NZ)
Many thanks to Deb Ryan for handling Spook to this wonderful win
The future looks very bright for this happy little fellow & we look forward
to his continued success. 
Unfortunately, my camera battery decided to
die whilst taking some photos of Spook in the ring, so picture is not very clear..
.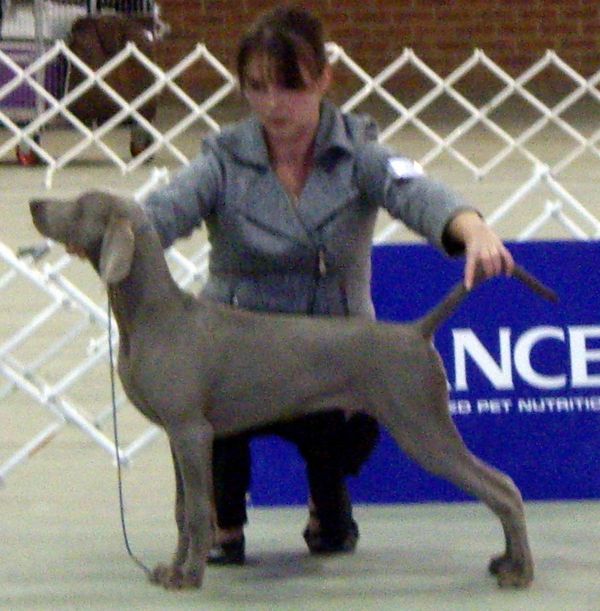 Below:  Spook @ 6 weeks old.....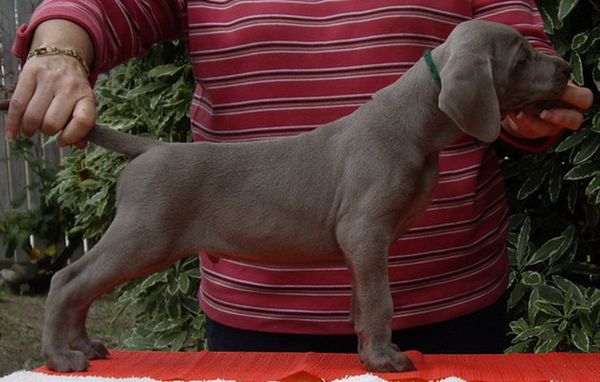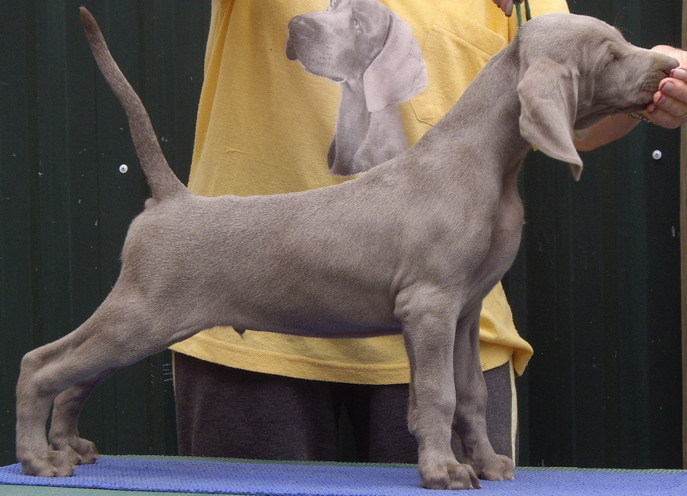 'Spook' pictured above @ 8 weeks old....
This lovely, outgoing young fellow is set to continue on his
winning way in the show ring in 2012 upon his return to Australia from the US. 
SPOOK'S PEDIGREE CAN BE VIEWED
ON LITTER SISTER
BINDI'S PAGE
.....