Sire: Aust Ch Silvasheen Capuccino Kid
Dam:  Aust Ch Divani Apaches Star (AI)
Whelped:  7th May 2002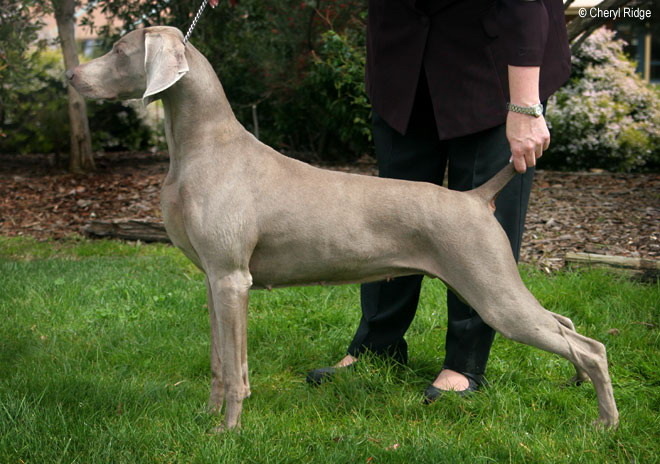 Above: Skye pictured above on 19th September 2010
at the Weimaraner Championship Show, aged nearly 8 & a half years old.
  This girl never seems to age and is still looking wonderful !
  Our thanks to Cheryl Ridge for this beautiful photo of Skye.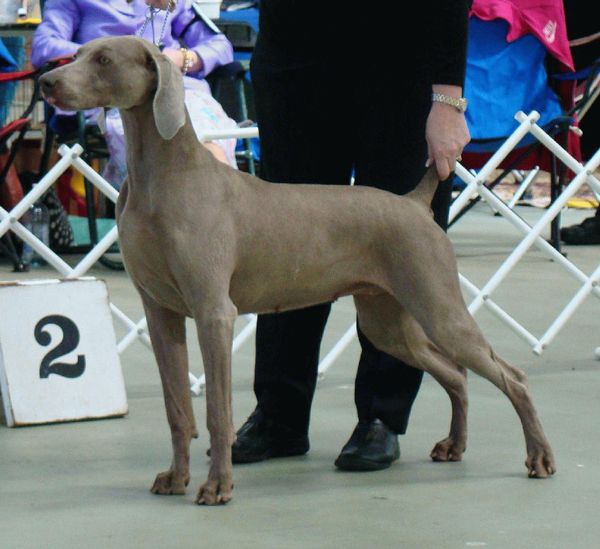 Above:  Skye @ 7 & a half years old...photo taken on 20th September 2009
by Johanna Lynch - Thanks Jo !
This was Skye's first appearance in the Veterans' Parade at the
Weimaraner Club of Victoria Inc's Championship Show.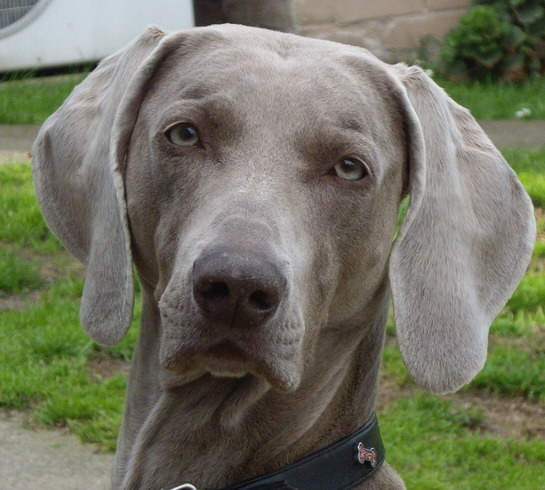 Above: 4th October 2009 - Skye @ 7 & a half years old....
A quick snap taken in the backyard
early in the morning - still a stunner !!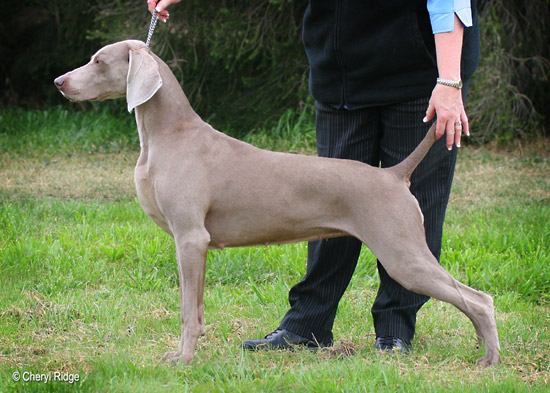 Above: Skye @ 6 & a half years old...photo taken on 20th September 2008
by our favourite photographer - Cheryl Ridge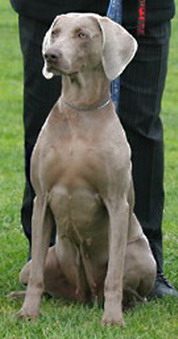 Above: Skye pictured at KCC Park ~ September 2008...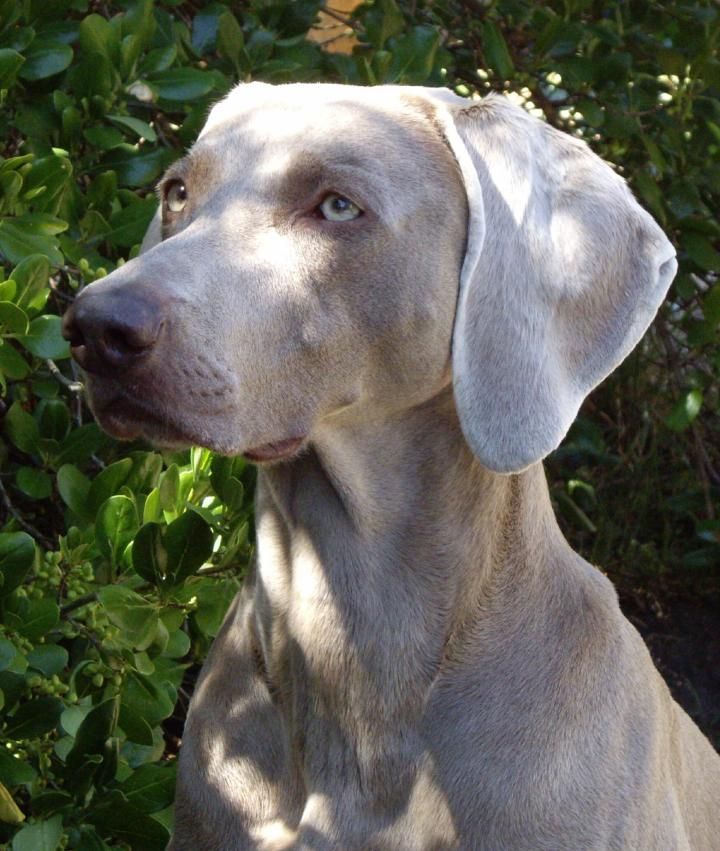 ~ SKYE PICTURED ABOVE 15TH JANUARY 2007 ~




"Skye" is an exquisitely feminine bitch with sound conformation, 
and a cheeky, friendly temperament. 
She is also a brilliant gundog and works exceptionally well in the field 
(see photos of Skye on our 'In The Field' page). 

She is without doubt, one of the best bitches we have bred 
(conformation-wise) over the years. 
Skye is a Multi Class In Show winner (All Breeds & Specialty)
& gained her show title very easily at 13 months of age
against strong competition, at both city and country shows.

Skye was graded 'Excellent' at the 
3rd Weimaraner National held in Victoria in 2005

Her sire is the very 
well-performed Ch Silvasheen Capuccino Kid  
(Graded 'V1' Excellent - 2nd Weimaraner National 2001) 
and her dam is the beautiful
Ch Divani Apaches Star (AI) - 
(Graded 'Excellent' at 3rd Weimaraner National in 2005, 
& dam of 4 champions - all Graded Excellent).




SKYE IS A MUM !!!

After lots of heartache & many tears, we are thrilled
to announce that our special girl presented us with
2 lovely Boomer babies on 1st June 2007
via caesarean delivery.  
On a sadder note, due to severe complications, 
this is to be Skye's one and only litter,
which makes it even more special.

We would like to take this opportunity to
thank Dr. Ros Fleay of Chirnside Park 
Veterinary Clinic for all her dedication,
determination and expertise in ensuring
the safe arrival of Skye's "miracle babies."

Also, a big "thank you" to all the caring staff 
at the surgery for all their ongoing support and encouragement 
during our numerous, monitoring visits to the surgery each week.

And last but not least, to Carol Wright of
Grauhund Kennels (owner of Boomer),
a huge thankyou for being so caring and
supportive over the entire time.
Yes, dreams do come true !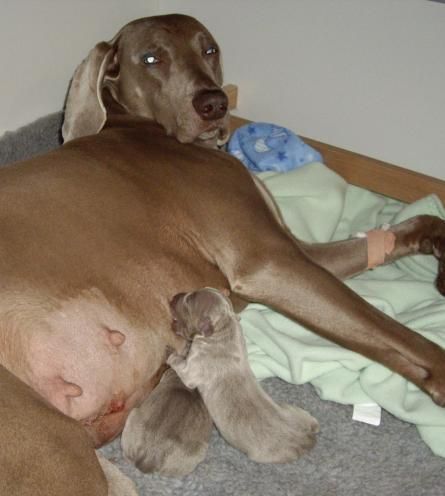 A very groggy Skye, with babies, 
recovering from her C-Section....
It was a slow start to motherhood for Skye,
after waking up and wondering -
  "Yikes !! What on earth are these
2 little squawking things ??"
But thankfully, the maternal instinct kicked in
during the early hours of the next morning
  morning & she was a fabulous Mum to her kids.....
To this day, Skye still tries to do the "take over bid"
with her grandchildren and is a doting grandmother...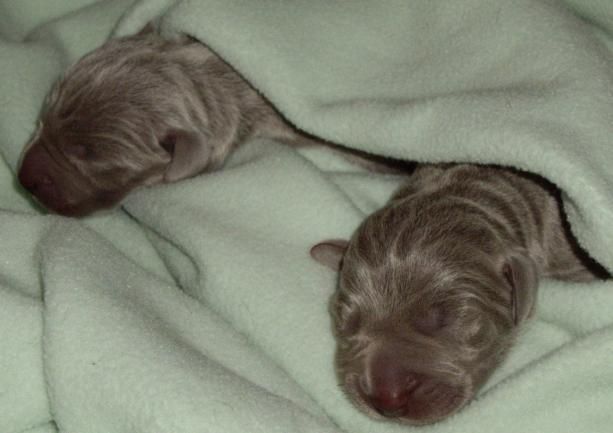 8 hours old....keeping warm after a traumatic
arrival into the world.....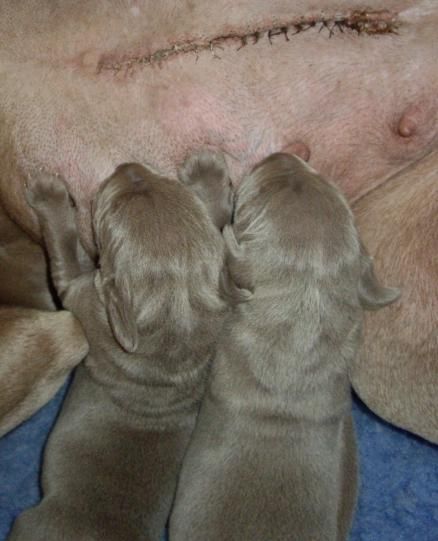 Skye showing off her impressive scar and 1 week old babies 

(Bree at left & AJ right)....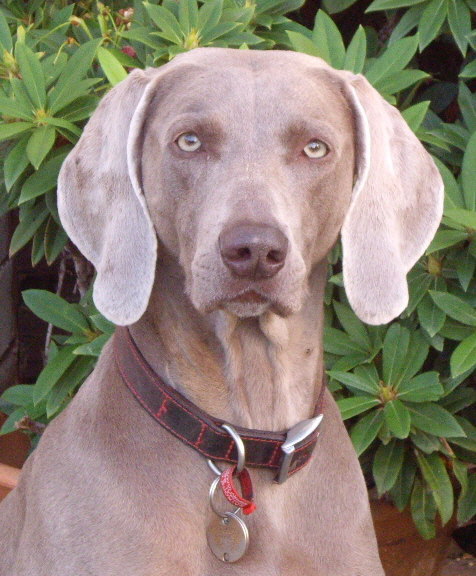 Above & Below : Skye ~ 23rd January 2008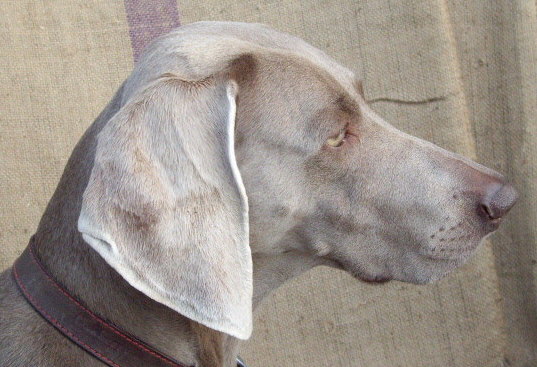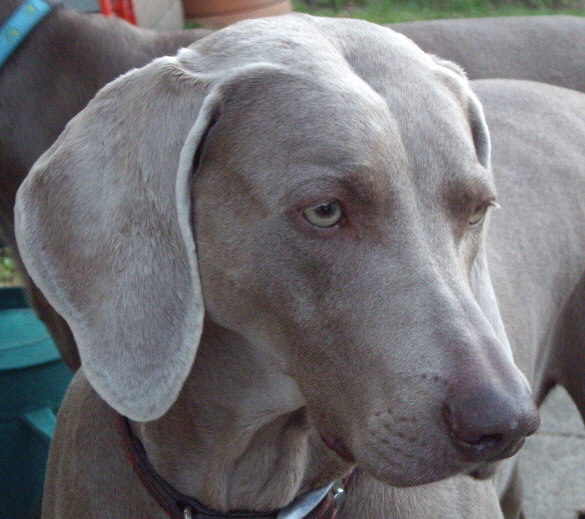 Above: 23rd January 2008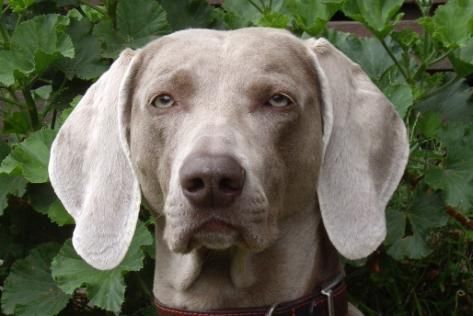 Above: Skye ~ 14th October 2007
Am Ch Nani's Cobbie Cuddler (USA)

Ch & Am Ch Deerpath's Charlemagne (Imp. USA)

Ch & Am Ch Deerpath's Charlemagne (Imp. USA)

Ch Monroe's Zebedee (Imp. UK)

Am Ch Tophat's Top Gun (USA)

Am Ch Nani's N Tophat's Backlash (USA)

Am Ch Tophat's Aria CD (USA)

Am Ch Valmar's Starling (USA)

Am Ch Valmar's Xtra Copy (USA)

Am Ch Valmar's Pollyanna (USA)

Am Ch Nani's Baht A Pack A Trouble JH (USA)

Ch Divani Joyous Occasion


Now that her role as a Mum has come to 
a permanent halt, we are looking forward to
heading back out into the field with Skye very soon.
  Skye will also make the occasional appearance in
the Veterans' Class over the next few years.

She is a very active girl, full of beans and on the go 24 hours
a day - always looking for something to do.
  One of her favourite pastimes is stalking the birds in
the backyard.  She is a very loyal, loving girl who
greets you with a cheeky smile and will snuggle
up to you for a belly tickle at the drop of a hat.

Hipscore 4:4 ~ Elbows 0:0
(Hipscored by Dr. R. Wyburn ~ Murdoch University WA)