After a few months of planning, booking flights and accommodation and working out which places we would visit (apart from Crufts Dog Show),  I headed off to the UK and Paris with my friend Liz Harding.  Our flight left at 3.00 am on the 3rd March and we arrived in Dubai for a 5 hour stopover which gave us plenty of time for some duty free shopping !

We then headed directly to Birmingham and after an horrendous landing, we made our way to the motel where we would stay overnight before picking up our hire car and heading about 12 miles to where we would be staying during our 4 day visit to Crufts.  Up early the next morning and off !  With a little help from our Satnav in the car, we made our way to Great Barr and found the motel which we would call home for the next 5 days.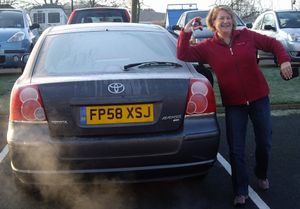 (Above: Liz with our hire car on a very chilly Day 1 heading off to Crufts....)

After settling in at the motel, we decided to have a look around and get our bearings before battling the traffic on the M4 the next morning on our way to the NEC for Day 1 of Crufts.  It was obvious that no-one, apart from us, observed the speed limits !!  They drove like maniacs and we were both amazed at the cars whizzing past us.  I decided then and there that Liz, being a 'city-girl' could have the job of driving into and home from the NEC each day and
I would stick to the country roads


Day 1 at Crufts saw the Terrier and Hound Group judging, although Liz and I did not see much of the dogs in the ring as we dedicated our first day to some serious shopping.  With nearly 400 trade stands to see, we had our work cut out for us to see it all in one day.  We both bought some beautiful things - i.e. Weimaraner prints, some lovely collars for all the dogs and lots of other goodies.  We ended up buying a pull-along trolley just to carry everything ! 

Day 2 saw the Toy and Utility Group judging and surprisingly, we did get to see a few of the dogs in the ring today !  My DVD was working overtime, but unfortunately, it was hopeless taking any photos inside as the lighting was dreadful and gave everything a yellowish tinge.  We still managed to cram in a little more shopping and we began to wonder how on earth we would get everything back home ???

Day 3 and the day we really wanted to see - Gundog judging.  This day was solely for the judging of Gundogs and the entry in most breeds was huge - i.e. 541 Golden Retrievers, 373 Flatcoated Retrievers, 565 Labrador Retrievers and 446 Weimaraners were just an example of the size of the entries, with the judging spread between a large number of judges for each breed.  My DVD was working overtime and I got most of the larger classes with the Dog & Bitch CC Winners.  Best of Breed went to a lovely, sound dog - Sh Ch Ansona Gamekeeper of Aarranz Sh CM, better know as "Logan".  What a happy fellow he was !  A typical, very 'English' looking Weimaraner and as sound as a bell on the move.  Liz and I were lucky to get to talk to Logan's owner, Lynne Danneau, who very kindly allowed us to take some photos of Logan outside.  Lynne and her husband live in Cornwall and made the trip to Crufts via coach with alot of other 'doggy' people and of course, Logan.  Cutting a long story short, Logan went on to get Runner Up In Group, which was fantastic.  (See Logan below....)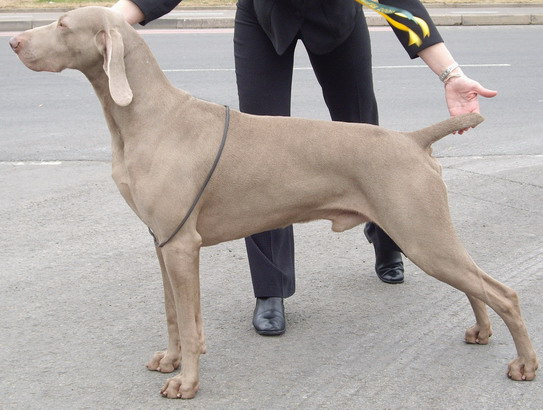 Day 4 saw the judging of the Working Group and the Pastoral Group.  We decided not to head into the NEC too early
on this day because we would have a fairly late night after watching Best In Show.  We managed to fill in the afternoon looking at a few unusual breeds that we don't see here in Australia.  We were quite taken with the Portuguese Podengo which to me, looked like a rough haired Jack Russell Terrier crossed with an Australian Terrier.  A delightful, little dog with lots of character.  It was time to join the massive queue into the Main Arena to find our seats to watch Best In Show.  The entertainment beforehand was fabulous, with the Dancing Dogs, the Agility Dog Final and the Friends for Life judging.  This brought a tear or two to both of us and nearly everyone else sitting near us, as it was very touching to see these wonderful dogs and their amazing feats of bravery and companionship.

Best In Show !!!  What a terrific spectacle it was, with some stunning dogs making up all the Group winners.  The winner was a lovely Sealyham Terrier which had won R/U In Show at Westminster a few weeks beforehand.  The Runner Up In Show at Crufts was a truly stunning, white Standard Poodle, which was my pick for Best In Show.   He was magnificent and did not put a foot wrong.  After a great night, we made our way back to the carpark and headed back to the motel.  We had to be up and off early the next morning as we were heading to Gloucestershire to visit Chris's parents for a few days.  Our Crufts experience was something never to be forgotten !
(Some photos taken at Best In Show on the Sunday night...unfortunately, the lighting was
dreadful and photos not as good quality as we would have liked....)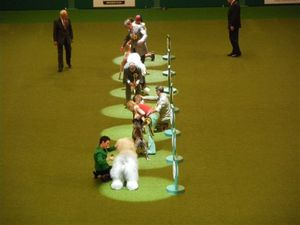 Best In Show line up.....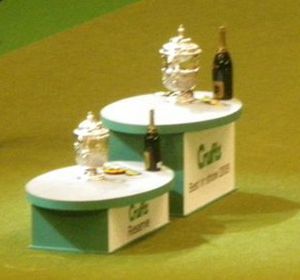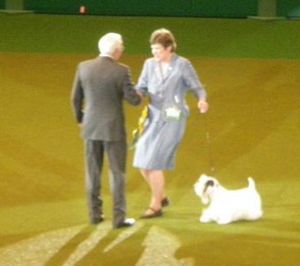 BEST IN SHOW !!!!!!!!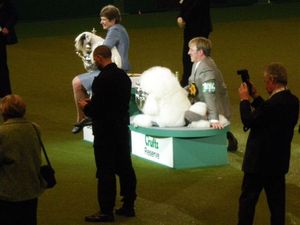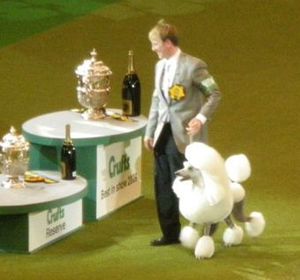 Above left: BIS & RUBIS.  The BIS winner, the Sealyham Terrier, was RUBIS at Westminster Show
a few weeks before Crufts.....My pick for BIS was the Standard Poodle...it was just superb and
didn't put a foot wrong !



 
My turn to drive and we headed south to Gloucestershire - the beautiful Cotswolds.  We did a slight detour into Cheltenham as I had to pick up some very expensive shooting glasses for Chris and I was under strict instructions, "don't come home without them !"  So after finally locating the gunshop and purchasing the glasses, we made our way to Dursley.  It was just lovely to catch up with my in-laws again and we spent a very enjoyable evening having dinner with my mother & father-in-law.  We were spending the next two nights at Hunters Hall - a great 17th century pub which has just had the old stables renovated into a motel.  I have been to Hunters Hall on our previous visit to the UK and it is one of my favourite places.  We picked up Chris's Mum the next morning and headed to Bath.  I had also been to Bath before, but it is such a lovely place and we had lunch in the Pump Room at the Roman Baths.  Liz had a sip of the Bath water and wasn't particularly taken with it.  I had tried it on my last visit and must admit, it wasn't the nicest thing I have ever tasted !  But as they say, when in Rome, or in this instance Bath.....
Below left...My mother-in-law with Liz..the gardens at Bath & me with Mum B.....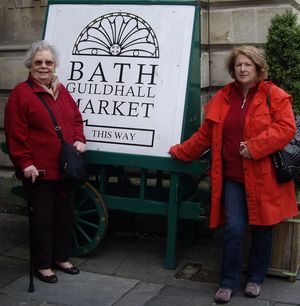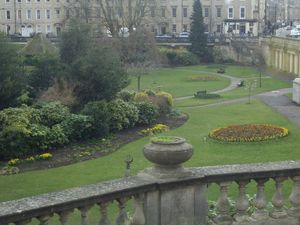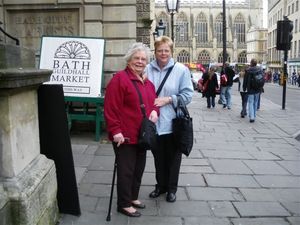 We spent the day looking around the town and then caught up with my brother and sister-in-law Richard and Jane and my nieces and nephew, Kelly, Rachael & Nathan, who had called into Hunters Hall for a few drinks with us that night.  We had a great time catching up and having a drink or two.  Next morning we headed back into Dursley to say goodbye to Chris's parents and also to catch up and see Kelly and her little son Zak.  What a gorgeous little fellow he is !!  He was just recovering from the chickenpox, but still managed to give us a little smile or two.  Time to say goodbye, and a few tears all round.  Can't wait to see everyone again when Chris and I head back in August this year.
(Below...Hunters Hall)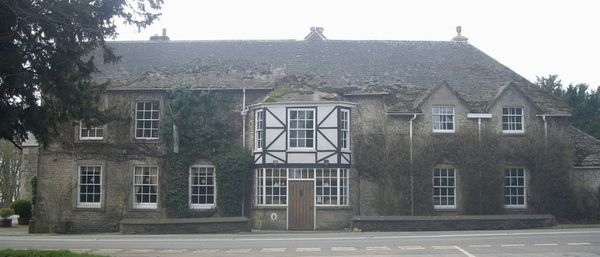 (Below left:  Chris's parents....Right: Zak)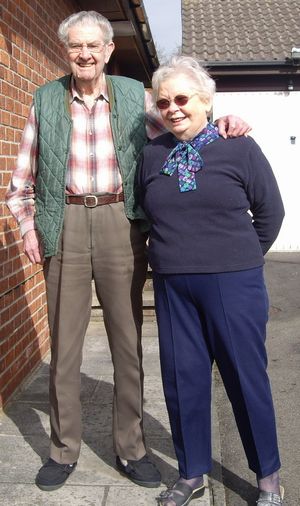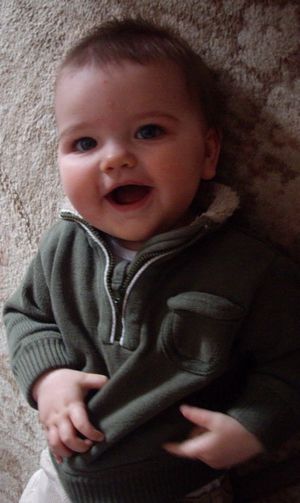 (Below left: Kelly, Zac & Lionel)....Below right: Di with Kelly, Zac & Dad Brown)...