Our 2012 trip to the UK began at 2.40 am on
9th August 2012.  We boarded our Emirates flight ~
very excited to be heading overseas again to spend time
with Chris's mother, brother and family.  Our last visit together
was in 2009.  This trip was to be extra special, as my
sister Carol, brother-in-law Andrew and youngest
nephew William were accompanying us on what was to be their
very first overseas trip !  They were to spend about a week
with us in the UK and then continue on to Switzerland & Italy.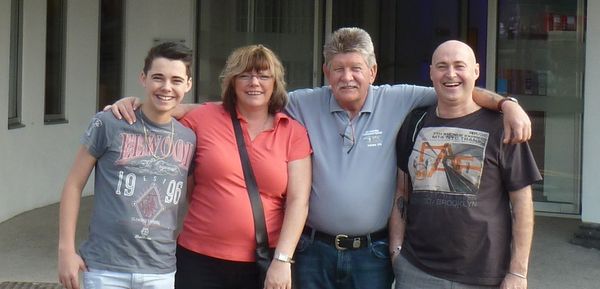 Above:  Stayed overnight at a motel near Heathrow...here we are heading off
and feeling a bit jet-lagged the next morning to collect our hire cars..
L-R: William, Carol, Chris & Andrew. (Di was photographer
After a day or so to settle in & get over the dreaded jet-lag,
we headed to Bath.  Chris and I have been there several times
previously, but it never ceases to amaze me with all it's
history and wonderful architecture. 
We had lunch in the beautiful Pump Room Restaurant
at the Roman Baths where Carol, Andrew & William
sampled the 'Bath Spring Water'
It was a great opportunity for us to celebrate Chris's 60th Birthday
and also Carol's 50th while we were all together with family, so
a 'night out' was planned at our favourite haunt - Hunters' Hall in Kingscote.

 Di very sneakily made and smuggled two birthday boards with photos
of Chris and Carol when they were young, into her luggage and arranged with the
owners of Hunters' Hall, Lillian and Iain to display the boards at our table. 
Thanks guys ~ you were just wonderful and helped make our night
 one we will all remember for a long time !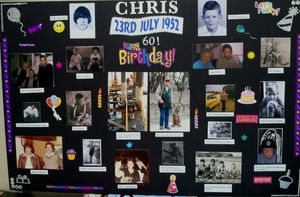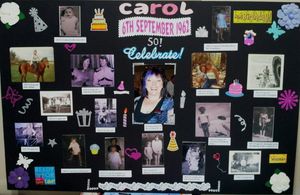 Above:  The Birthday Boards...